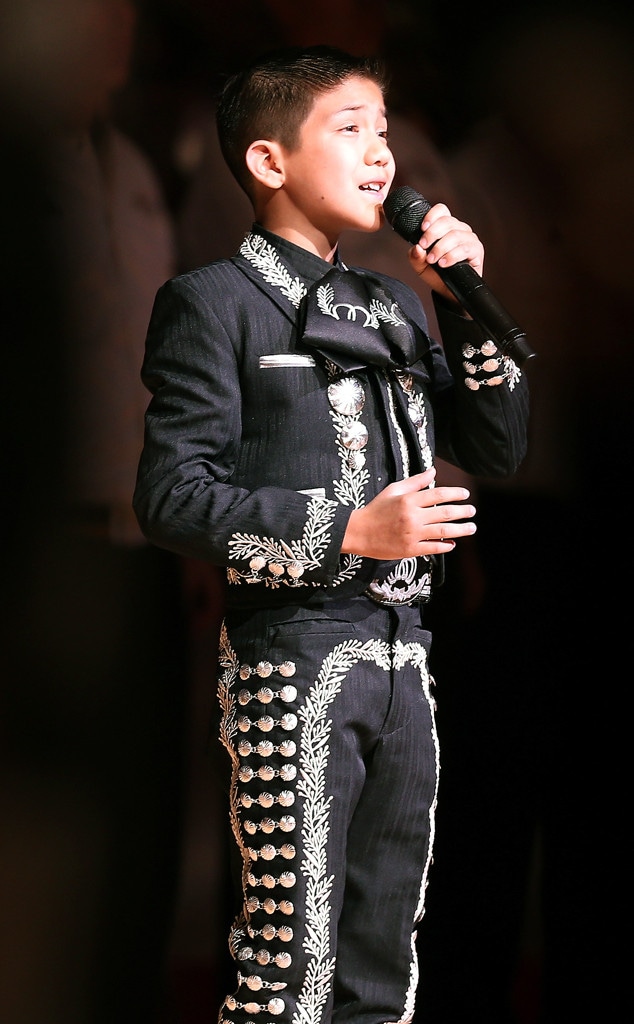 Christian Petersen/Getty Images
Sebastien De La Cruz came back, he sang, he triumphed.
Two nights after his performance of the national anthem before Game 3 inexplicably sparked a slew of racist tweets, the 11-year-old mariachi singer once again did the "Star Spangled Banner" honors before Game 4 of the NBA Finals in San Antonio.
And the crowd went wild! (And here's hoping the haters manage to check themselves this time around.)
Also before tip-off, with the San Antonio Spurs leading the Miami Heat in the series 2-1, Spurs coach Greg Popovich slammed the treatment De La Cruz received after his winning performance on Tuesday.
"I would like to say that I would be shocked or surprised by the comments," Popovich said Thursday during his pregame press conference, per SI.com.
"But given the fact that there's still a significant element of bigotry and racism in our nation, I'm not surprised. It still plagues us, obviously. And what I was surprised by was how proud these idiots are of their ignorance, by printing their names next to their comments."
De La Cruz, who appeared on the last season of America's Got Talent, was always supposed to perform tonight—he was a last-minute substitution for Daris Rucker on Tuesday after the former Hootie & the Blowfish frontman couldn't make it.
"He's a class act," Popovich said of the fifth-grader. "Way more mature than most his age. And as much as those comments by the idiots sadden you about your country, he makes you feel that the future could be very bright."
"My father was actually in the navy for a pretty long time, and I actually salute him today for that," De La Cruz himself responded to the backlash yesterday. "I just wanna thank him and to be able to sing the national anthem. People don't know, they just assume that I'm just Mexican. But I'm not from Mexico, I'm from San Antonio, born and raised. True San Antonio Spurs fan."