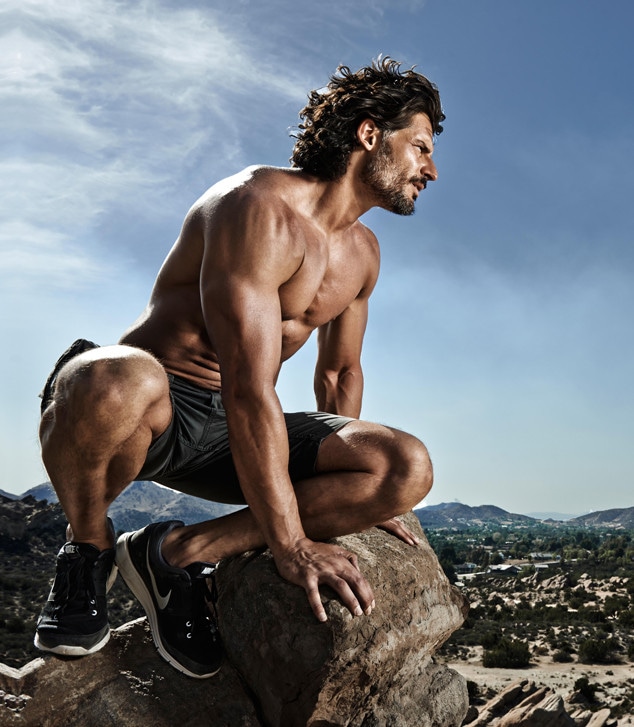 Courtesy of Patrik Giardino/Men's Health UK
Spoiler alert! What you're about to read contains some steamy details from Sunday's season-six premiere of True Blood.
Just when you think you've seen as much of Joe Manganiello as you possibly could on the show, along comes a three-way.
Manganiello starts the new season of the hit HBO series by not only showing his bare buttocks like he's been known to do, but he also has a blush-inducing scene in the woods with Kelly Overton and Jamie Gray Hyder.
"This crazy wild three-way…is kind of the beginning and the end of all the perks of being a pack master," Manganiello said of his wolf character, Alcide.
"It's the most thankless job in the world except for the random occasional three-way. It's pretty intense. I think they looked at the footage from last year and thought, 'Where do we go from here?' And they figured it out."
Overton, who plays Rikki, admits sex scenes are "always a challenge."
Hyder said the cast and crew are used to the nudity. "Everyone is accustomed to it, not only being naked themselves but being around other naked people on the set, [so] it's probably surprisingly oddly comfortable," said Hyder, who plays Danielle.
And if not, Manganiello knows exactly how to lessen the tension.
"I just play some soft music, my voice drops a few octaves, I hit the jets on the Jacuzzi and start growling, baby!," he joked.
At least we think he was joking.
Watch:
Joe Manganiello Has a Threesome on "True Blood"