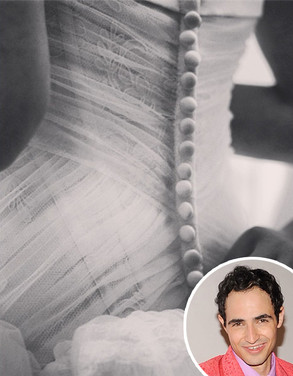 Instagram; WireImage
Good news for brides-to-be who are crazy about designer wedding gowns, but not so fond of hefty price tags.
Designer Zac Posen, who has dressed such famous brides as Portia De Rossi and Coco Rocha, has announced he's launching a bridal collection, Truly Zac Posen, with retailer David's Bridal.
The Project Runway judge took the time to chat with us in about his "accessible" new line, which he feels will "give collection a run for its money."
"Over a decade I've been making custom one-of-a-kind bridal pieces for very rare, lucky women that can fit into our very crazy schedule—it's a very personal experience," he told us. "And I really wanted to translate that into a line that would be at a price point and that could reach a lot of women."