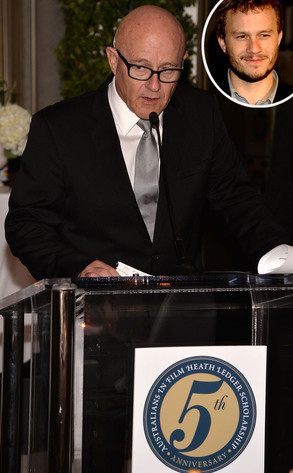 Frazer Harrison/Getty Images, Ash Knotek/Snappers/ZUMA Press
Heath Ledger's life was celebrated Wednesday night at the Australians in Film Heath Ledger Scholarship dinner in Los Angeles.
The late actor's father, Kim Ledger, spoke exclusively with E! News about why it was important for the scholarship, in his son's honor, to provide talented Australians in the early stages of their careers the chance to travel to the U.S. in pursuit of further training and international opportunities.
"I've had actors come up to me and say, 'You know if it wasn't for Heath giving us two or three months free of charge in his home, we would have never gotten a foot in the place,'" Kim said. "It's one of those industries where everybody supports each other, since it's so hard to make a bite. Heath was subject to that when he first started in Sydney, then he repaid the favors tenfold."