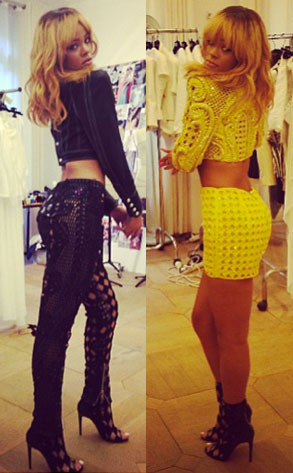 Instagram
Looks like Rihanna got some very beneficial research done for her upcoming reality show.
While in Paris for her Diamonds World Tour, the singer made a stop at the Balmain headquarters to visit head designer Olivier Rousteing and play dress up with some of his latest creations (and practice her booty tooch—Tyra Banks would be so proud).
"Me being a lil fashawn heaux! #BalmainOffices #TheyOnlyPlayMyMusicInHere #HeCalledMeHisMUSE #IDiiiiiiieeeeddd@olivier_rousteing," Ri-Ri said with a photo of herself strutting a sexy, bright yellow two-piece ensemble.