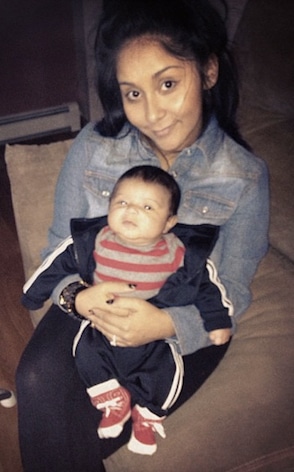 Instagram
Snooki's baby Lorenzo is growing up fast.
The former Jersey Shore star's 10-month-old son will be one in just a few months. So, what's little Lorenzo's latest milestone?
"He's starting to stand up on his own," Snooki dished to us recently. "He pulls himself up on the couch or on his toys and then he'll let go and he actually stand up for a couple seconds. That's been the milestone lately."
Almost walking?! "I wouldn't say close to walking, but he's getting there," the 25-year-old added.
It sounds like Snooki and fiancé Jionni LaValle will have lots of time to take in Lorenzo's many milestones. She says they've barely started thinking about planning their big wedding.
"Right now we probably want to get married next year sometime," Snooki said. "We're actually starting to talk about it now. We don't really have any plans yet but we're starting to talk about it. So that's a first."