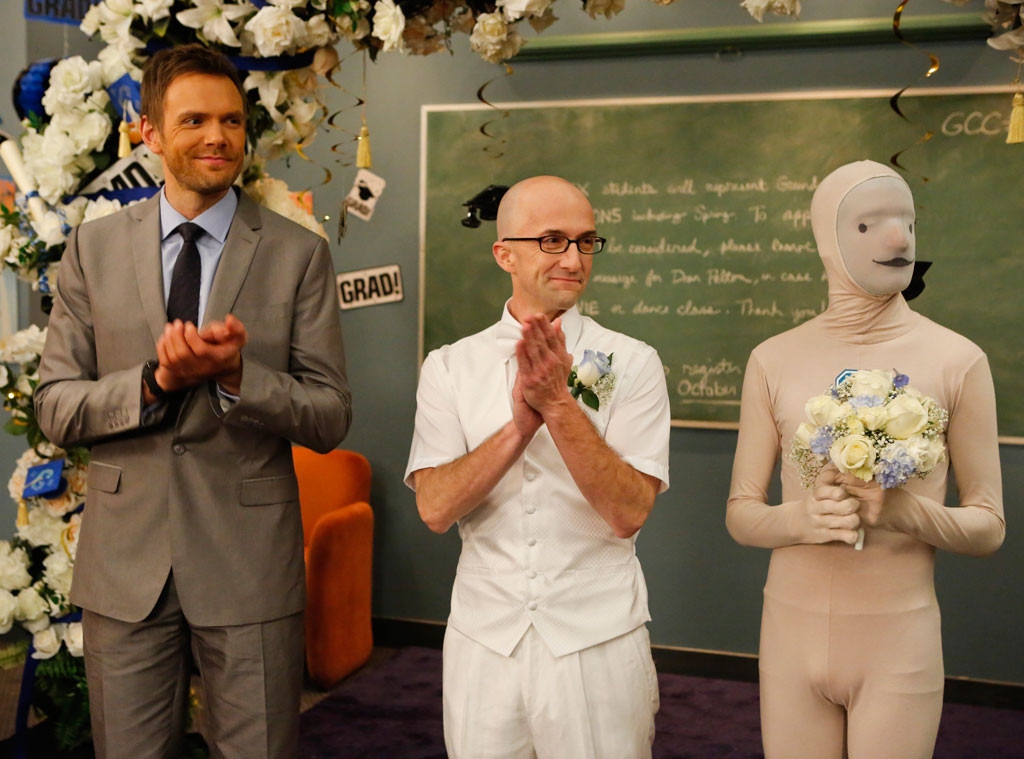 Vivian Zink/NBC
Dan Harmon is re-enrolling at Greendale Community College, Human Beings!
Community fans rejoiced when Harmon announced on Twitter that he would be returning as the NBC cult comedy's showrunner for its fifth season after his highly publicized exit prior to season four. While NBC and Sony had no comment, Harmon confirmed his return to Community on the red carpet at the ATX TV Festival in Austin, Texas, on Thursday.
"It was official enough for me to be a jerk and leak all of this business," Harmon exclusively tells E! News when asked if his return is official. "We're in the process of closing my deal. I'm getting yelled at for saying anything about it!"
And though it's not officially official, "We're supposed to start writing it Monday, so if my deal doesn't close, a different kind of history is going to be made," Harmon jokes.
With season five's start date just around the corner, Harmon admits to us he has yet to watch season four, which was overseen by Happy Endings writers David Guarascio and Moses Port, but is planning to binge-watch it.
"I am going to watch it I think when I get back on Sunday. I'm just going to sit by myself, pop some popcorn and watch it," he says. "I'm not going to be a jerk about it. I know there were some great writers working on that show who bled with me for seasons one, two and three…the worst thing I can do is fart in their direction at all."
"At the same time, I'm going to look at this thing and I don't think it would be very Community of me to negate anything," he continues. "Season three was weird, season two was weird, season one was weird; they're all weird. So if season four was weird in a different way, season's five job is to reveal that all four of those weird things add up to some weird hip-hop dance that when you put it on a loop, you go, 'Oh, I get it!'"
Castmembers such as Gillian Jacobs, Jim Rash and Danny Pudi have expressed their excitement over Harmon's return on Twitter, and he tells us he's eager to "gather my most important family around me" to "get all the tears out of us and get back to work."
(E! and NBC are both part of the NBCUniversal family).