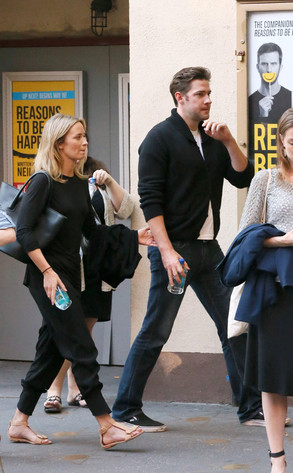 © www.splashnews.com
You just can't keep Jim and Pam apart for too long.
A few weeks after the series finale of The Office saw the soul mates riding off into the sunset (aka moving to Austin), John Krasinski and Emily Blunt took in a performance of Neil LaBute's new Off-Broadway play, Reasons to Be Happy—starring the actor's longtime onscreen love interest, Jenna Fischer.
The companion piece to LaBute's Reasons to Be Pretty costars Fischer as Steph, a remarried thirtysomething who still has feelings for her ex, Greg (Josh Hamilton), who happens to have just started dating her best friend, Carly (Leslie Bibb). But he's still got feelings for Steph, too!