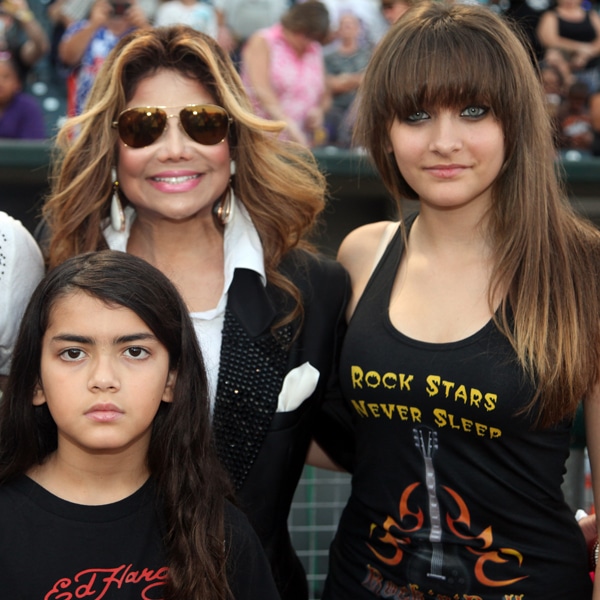 Tasos Katopodis/Getty Images
La Toya Jackson is looking out for her niece.
"We are grateful and appreciate the overwhelming concern for Paris from both the public and the media, but request privacy at this time while our family handles these issues together," Michael Jackson's older sister said in a statement exclusively obtained by E! News.
Paris Jackson, 15, was hospitalized earlier today following an overdose of pills that sources have characterized as a suicide attempt.
"I have spoken to the family and I have heard she is doing OK, she is resting," a friend of Paris' exclusively tells us. An attorney for her grandmother, Katherine Jackson, had also said that the teen was "physically fine" and getting the "appropriate medical attention" following Wednesday's scare.
In March, La Toya slammed a report that she was trying to shop a reality show featuring Paris and her brothers, Prince Michael and Blanket.
"As a loving Aunt, when the children ask for help or advice she supports them 100 percent, and will continue to do so," her rep told E! at the time.
La Toya also denied having any involvement with Paris' movie deal—a project she is still "so excited about," a production source exclusively tells us.
Lundon's Bridge and the Three Keys has "been in pre-production for a long time because there are a lot of special effects in it," the source says. Paris "has been taking acting lessons for the last year and a half and wants to be an actress. She is a very talented young lady. The film is scheduled to shoot this summer while Paris is on her break from school."
Meanwhile, Paris' friend tells E! that the teen "seemed totally fine" that last time they spoke.
"I am in total shock," the insider says. "She was her normal opinionated self. She's 15 going on 30, she has a lot of energy and so I am very sad. I didn't see this coming."
"My own personal opinion," Paris' pal continues, "is that Paris has still not gotten over her father's death. She never really had time to mourn because there was so much change that came with his death, and that's something we are all very sad about."
"The recent trial has not helped," the source added. "It's been a big stress on her." 
Katherine Jackson's wrongful death lawsuit against concert promoter AEG Live, with whom Michael was rehearsing for a 50-show engagement in London, has dredged up a number of graphic details regarding the pop icon's condition in the days before his sudden death at 50 in 2009.
In court yesterday, AEG Live CEO Randy Phillips called the suit "a baseless extortion."