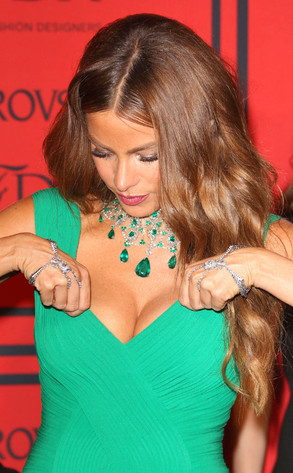 Erik Pendzich / Rex USA
Jewels? Check. Gown? All set. Décolletage? Whoops, just a sec—OK, now we're good!
Modern Family bombshell Sofia Vergara has never held back on publicly embracing her voluptuous curves, and on Monday at the CFDA Awards in New York City, the actress took extra care to make sure that her cups don't runneth over, so to speak.
The 40-year-old actress was spotted adjusting the bodice of her body-hugging emerald Hervé L. Leroux gown, ensuring that all her lady parts stayed firmly in place and evading a possible wardrobe malfunction.