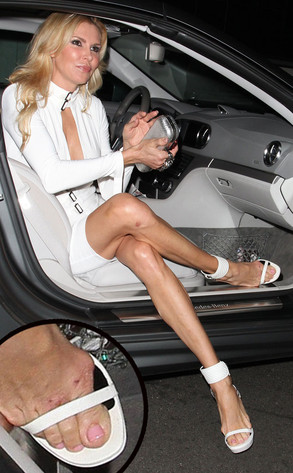 FameFlynet
We are used to stars looking polished from head-to-toe, but lately the pampering and prepping seems to stop somewhere around the ankles.
First Julianne Moore hit the red carpet with shoes so small her toes spilled over the sides. Then a few days later Rosie Huntington-Whiteley stepped out with very painful-looking bloody toes. Ouch!
Now, yet another pair of toes in desperate need of some TLC have surfaced. Over the weekend, Brandi Glanville revealed a few bruises and blisters on her feet after leaving a dinner in Beverly Hills. While we loved the star's on-trend white heels, perhaps she should have opted for a pair with a little more coverage.