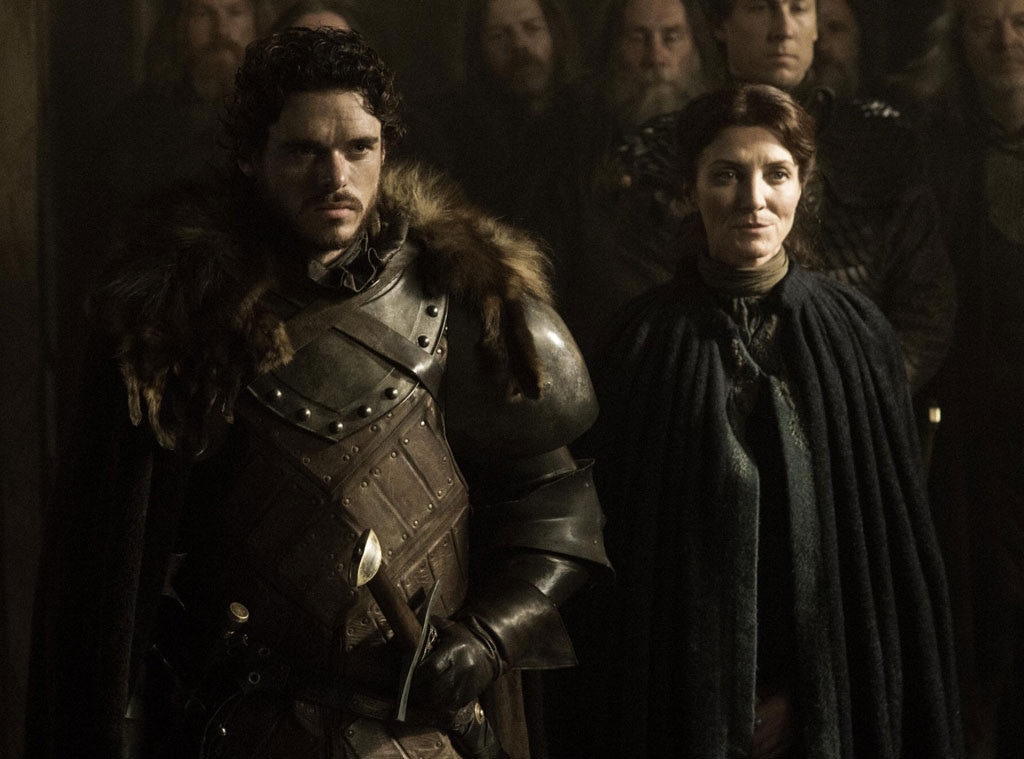 Helen Sloan/HBO
When we got our Save the Date cards for the wedding of Edmure Tully (Tobias Menzies) and Roslin Frey (Alexandra Dowling)—aka the Red Wedding, aka the worst wedding of all time—we thankfully did not RSVP in the affirmative. Because last night's Game of Thrones' episode had one of the most awful TV marriage ceremonies in the history of the small screen.
But Game of Thrones isn't the only series to feature a truly disastrous wedding. From car accidents to getting the name of your bride wrong, here are five other terrible TV nuptials:
1. Nathan and Haley, One Tree Hill: Actually, Nathan (James Lafferty) and Haley's (Bethany Joy Lenz) wedding ceremony was perfectly beautiful. It's what happened after that was a complete disaster. On the way to the airport for their Honeymoon, Nathan and Haley nearly collided with the wedding limo that was being driven by a hysterical Rachel (Danneel Ackles). Fortunately, Nathan swerved just in time to avoid a head-on collision. Unfortunately, the limo carrying Rachel and his uncle Cooper (Michael Trucco) went off a bridge and into the river, trapping them inside as they sank. Nathan, ever the hero, dove off the bridge to rescue them. The episode ended with Nathan, Cooper and Rachel still underwater and Hayley sobbing on the bridge calling for her husband.
2. Amanda and Prince Michael, Dynasty: Dubbed the "Moldavian Massacre", the season-five finale featured the royal wedding between Amanda (Catherine Oxenberg) and Prince Michael (Michael Praed). Who doesn't love a royal wedding, right? Moldavian terrorists, that's who. They attacked the wedding, shooting everyone and anyone in sight. The fate of all the major characters were left up in the air, making that scene one of the best cliffhangers in television history and the wedding one of the worst.
3. Ross and Emily, Friends:  As Chandler (Matthew Perry) put it, the only way Ross (David Schwimmer) and Emily's (Helen Baxendale) wedding ceremony could have been worse was if he shot her. He emotionally shot her through the heart, though, by saying "I, Ross, take thee Rachel" instead of saying his bride's name. Whoops. And his ex-girlfriend Rachel (Jennifer Aniston) was in the audience, making the moment all the more uncomfortable. They awkwardly continued with the ceremony, and Ross tried to laugh it off after they walked back down the aisle. Turns out, Emily did not find it amusing one bit. 
4. Sydney and Craig, Melrose Place: Wedding dress? Check. Photographer? Check. Out-of-control car coming straight at you at breakneck speed? Unfortunately for Sydney (Laura Leighton): check. Moments after saying "I Do" to Craig (David Charvet), Sydney gets run over by a car driven wildly by Samantha's (Brooke Langton) ex-convict father while he was being chased by the cops. Her new husband is left to cry over the corpse of his dead bride. Sydney later popped up in the 2009 reincarnation of Melrose Place, having faked her own death. Yep.
5. Lady Edith and Sir Anthony, Downton Abbey: Come on, Lady Edith (Laura Carmichael) and Sir Anthony's (Robert Bathurst) nuptials were doomed from the start, right? You could just tell that once they'd cleared all the hurdles to their union...there'd be one more. As expected, Anthony, convinced he's doing what's best for Edith, leaves her at the altar. Is Edith doomed to be a spinster forever? Oh, it's too much to bear!
Did we miss one of your favorite bad weddings? Sound off in the comments!