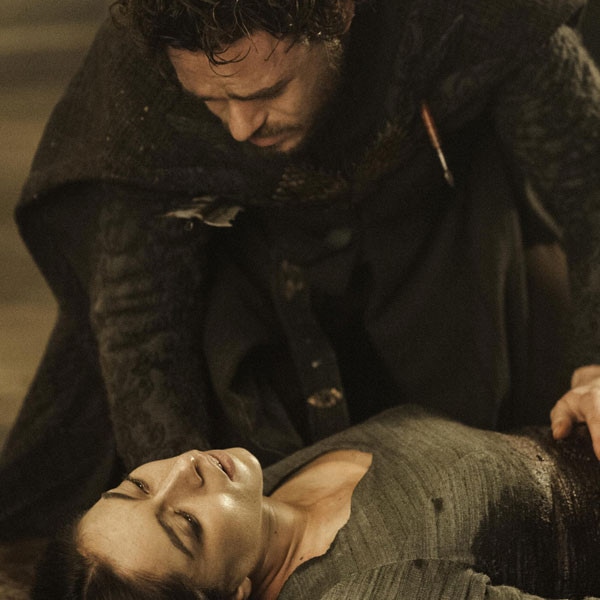 Helen Sloan/HBO
Spoiler Alert: For Stark's sake, if you haven't watched last night's episode of Game of Thrones, please do not read any further. We repeat, avert your eyes and go somewhere else if you are behind on Game of Thrones. The rest of you can carry on.
Worst. Wedding. Ever.
On last night's Game of Thrones, fans finally witnessed with a heavy heart what we've been dreading all season: the Red Wedding. Robb Stark (Richard Madden), his wife, Talisa (Oona Chaplin), and his mother, Catelyn (Michelle Fairley), were all viciously murdered after the wedding of Edmure Tully (Tobias Menzies) and Roslin Frey (Alexandra Dowling). Even though we knew it was coming, it was still pure torture to watch these characters lose their lives. Damn you, George RR Martin! We just got over Ned Stark's (Sean Bean) death!
Our emotions are still raw, as you can tell, but we have a sliver of comfort in the form of insight from Madden, who told reporters during a recent conference call that he was basically an emotional wreck before, during and after filming.
"We went into that scene with a heavy heart, because we really love being on that show and we love working together. When we shot the scene, it took a few days, because it's huge," he said. "And there's a moment in this scene where we look at each other—it's Robb Stark essentially saying goodbye to his mother and giving up, and rather than it being something really bad, there's a moment of tragedy and utter relief, actually, because these two characters have fought and fought and fought and fought, and it's finally over. Me and Michelle really felt that on the day, as did a lot of the crew, I think. It was horrible. It was really difficult day for everyone. There was lots of tears from many people, including myself."
Even though he was a fixture in the series since episode one, Robb Stark didn't get the heroic death befitting a character like his. But Madden is not resentful about his departure.
"I don't have any bitterness to it because I think Robb Stark dying in that way is one of the best things that HBO does so beautifully and Game of Thrones does so beautifully, which is just to rip these characters' hearts out in front of you," he said. "It's hard, and yeah, maybe it would have been better for Robb to die gloriously on the battlefield or something else like that. But this [death was] so sudden and violent and horrible. The way that I've tried to build Robb Stark up, and the way that the writers have done, there's no other way we could have killed him, because he is great on the battlefield. And despite his very poor choices, he is a great leader, and I think a lot of people would stick up for him and watch his back. I feel it's a really apt death because he's been outsmarted, and it all comes from his good heart and his trust of other people—his trust that people will do the right thing and not just destroy each other like they do."
In case you haven't cried enough, just read what Madden said about leaving set after filming his final moments as Robb Stark: "It was really moving, and not very nice, and I left set and got straight to the airport and got on a plane because I didn't want to be there anymore."
If we could give him a hug Richard, we would. But we'll just settle for hugging ourselves and rocking back and forth in the corner trying to recover from the Red Wedding.
What did you guys think of the episode? For those who didn't know it was coming, are you still in shock?