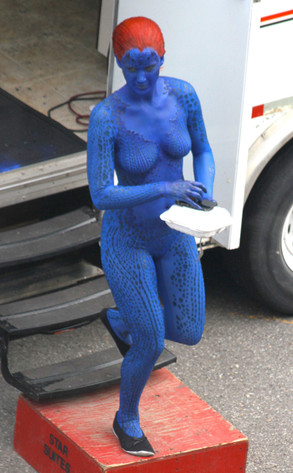 Ultrawig / Splash News
No doubt all those hours spent sitting in the makeup chair have made Jennifer Lawrence hungry.
The Oscar winner was photographed dressed up in her blue-hued costume as the shape-shifting mutant baddie Mystique and grabbing some food on the Montreal set of the forthcoming X-Men: Days of Future Past.
Aside from maintaining that curvy figure of hers, the 22-year-old Lawrence also passed the downtime making funny faces with her 23-year-old ex-beau Nicholas Hoult, who reprises his role as Beast in the movie.
Days of Future Past, which unites the cast from the first X-Men trilogy with those from 2011's prequel X-Men: First Class, storms into theaters on July 18, 2014.