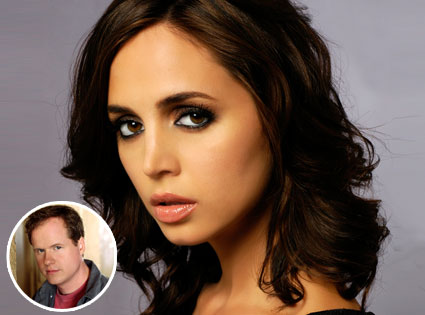 Fox, The WB
Updated Wednesday, 8:18 p.m.:  Whoo-hoo! More Dollhouse news! Foxy types have just informed me that Harry Lennix, whom you may know from The Matrix or Fox's own 24, has been cast as Boyd Langton, the ex-cop who keeps track of Echo when she's out and about on her missions. I think he'll be fab. Your thoughts? Post 'em in the comments below!
My job is always ice cream and chocolate syrup, but some days I get sprinkles too! Today is one of those days, because I just got a major treat in the form of a sneak peek at Joss Whedon's Dollhouse pilot. Click in to pour some sugar for yourself... 
What's the pilot episode called?
"Echo."

What's it about?
The logline don't lie: "Echo (Eliza Dushku) is a young woman who is literally everybody's fantasy. She is one of a group of men and women who can be imprinted with personality packages, including memories, skills, language—even muscle memory—for different assignments. The assignments can be romantic, adventurous, outlandish, uplifting, sexual and/or very illegal. When not imprinted with a personality package, Echo and the others are basically mind-wiped, living like children in a futuristic dorm/lab dubbed the Dollhouse, with no memory of their assignments—or of much else. The show revolves around the childlike Echo's burgeoning self-awareness, and her desire to know who she was before, a desire that begins to seep into her various imprinted personalities and puts her in danger both in the field and in the closely monitored confines of the Dollhouse."

What's it like?
Dollhouse is like The Bourne Identity meets Stepford Wives meets boarding school meets Los Angeles neo-noir meets the Whedonverse. In short, it's rad, man.

If I was writing an eighth-grade book report about Dollhouse, what would I list as the "themes"?
Identity, self-determination, free will is both a blessing and a pain in the ass, The Next Generation's Data is a great TV character, Eliza Dushku is hot. What? Those first three at least are almost certainly themes.

Is Echo just a new name for Faith?
That's a negatory. Echo has a genius for contemplation and self-awareness that Faith couldn't begin to approach. Echo also has about 48 different faces to show the world, which gives her a good head start on Faith, who seemed to vary primarily between rage and desolation. In the first episode, we are shown that Echo is essentially like the Scarecrow from The Wizard of Oz—"If I only had a brain..."—but she's otherwise fully equipped with a soul, a rockin' bod, and a good, fearless heart.
Who's the new boss of us all?
Olivia Williams is going to rock as Adelle Dewitt, a Frigidaire administratrix whose rare brushes with human empathy and compassion are enough to make you suspect she might just be a good guy after all. 

Where's the twist?
The Dolls are programmed to mix up identity and personality with a splash of subterfuge and a dash of dementia—but they're not the only ones. Tahmoh Penikett's FBI agent Paul Ballard is obsessed with opening up the Dollhouse, but he may have more in common with—and already be closer to—the Dolls than he even knows.

Where is the love?
Echo and Paul are going to be hot like fire, no doubt, but I predict that cerebral Doll mechanic Topher (think Kevin Rankin's character in Bionic Woman, but more evil) and blank-slate Kewpie-doll Sierra (Dichen Lachman) might end up being the other pair of opposites that attract.

Who's the Xander?
If I had to guess, I'd pick Victor (Enver Gjokaj).

What does the actress who plays Dr. Claire Saunders need to bring to the table?
Visible facial scars from a razor-blade attack somewhere in her past or a cooperative, calm personality and a willingness to sit quietly in a prosthetic makeup chair for extended periods each day. Scars notwithstanding, I'm kind of seeing Cynthia Watros or Kathleen Robertson in the part...
Got questions about the residents of the Dollhouse? Email me at tvdiva@eonline.com, and I'll do my best to conjure up some answers in the next chat.
—Reporting by Jennifer Godwin