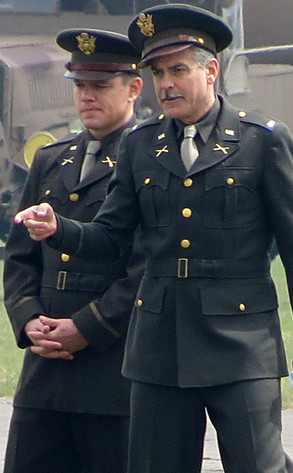 FameFlynetUK/FAMEFLYNET PICTURES
We love a man in a uniform. And two men? Well, we love them even more.

Hollywood hotties George Clooney and Matt Damon were snapped on set of Clooney's Monuments Men, and the scene looks mighty tense.
Based on true-life World War II events, the film follows a small crew of art historians, curators and average soldiers who were given the near-impossible task of running around Europe—during the battles following D-Day in 1945—to find and recover artworks that had been stolen, looted and hidden by the Nazis. As well, the so-called monuments men helped locals to protect statues and other precious works from the bombs and bullets flying around.