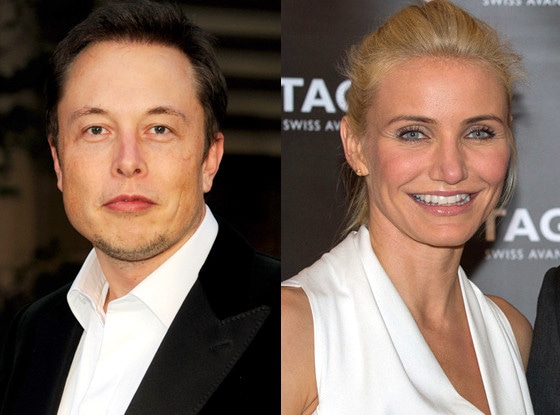 Kevin Winter; Didier Baverel/Getty Images
Is a new couple blossoming?
Cameron Diaz is reportedly cozying up to wealthy businessman Elon Musk, the man behind PayPal and Tesla Motors.
Speculation has swirled that the actress began seeing Musk after purchasing her very own Tesla electric sports car earlier this year.
So just who is this man who's stealing Diaz's heart? Here are five things to know about the mystery man:
1. He's Got Money in the Bank: At 41-years-old, Musk is worth approximately $4.5 billion after launching Zip2, Paypal, space exploration firm Space X and most recently, Tesla Motors.
2. He's Not Afraid of Commitment: Musk has been married twice before and split with second wife Talulah Riley, a British actress almost half his age, in mid-2012. He has five children from his first marriage to Justine Musk.
3. Musk, the Muse: The successful businessman reportedly was the inspiration behind Jon Favreau's film depiction of Iron Man's Tony Stark character.
4. He'll Make the Move: Musk is rumored to have been visiting Diaz in Los Angeles while he continues to work at the Tesla headquarters in Palo Alto, Calif. It's just a short hour-long flight!
5. Charity Case: The South African-born CEO has donated countless funds to solar energy projects and even started his own multimillion-dollar program to donate solar-powered systems for areas in critical need after disasters like hurricane-hit towns.
Sounds like an all-around great guy!