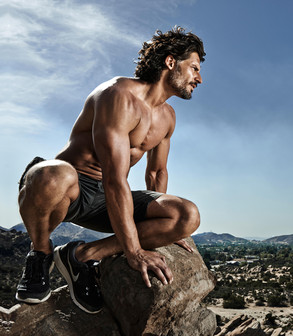 Courtesy of Patrik Giardino/Men's Health UK
Joe Manganiello is one of the hunkiest guys in Hollywood.
But when it came time look extra beefcakey, the 36-year-old actor tells Men's Health UK he got some pro tips from Arnold Schwarzenegger himself.
"We had a photoshoot for the movie [Ten] poster. I was wearing a sleeveless top, crossing my arms and flexing," he recalls. "Arnold came in and said, 'I see you're flexing your biceps. Don't do that. Keep it loose and [with crossed arms] put the other hand back to push [the muscle forward]—you'll get an extra three inches.'"