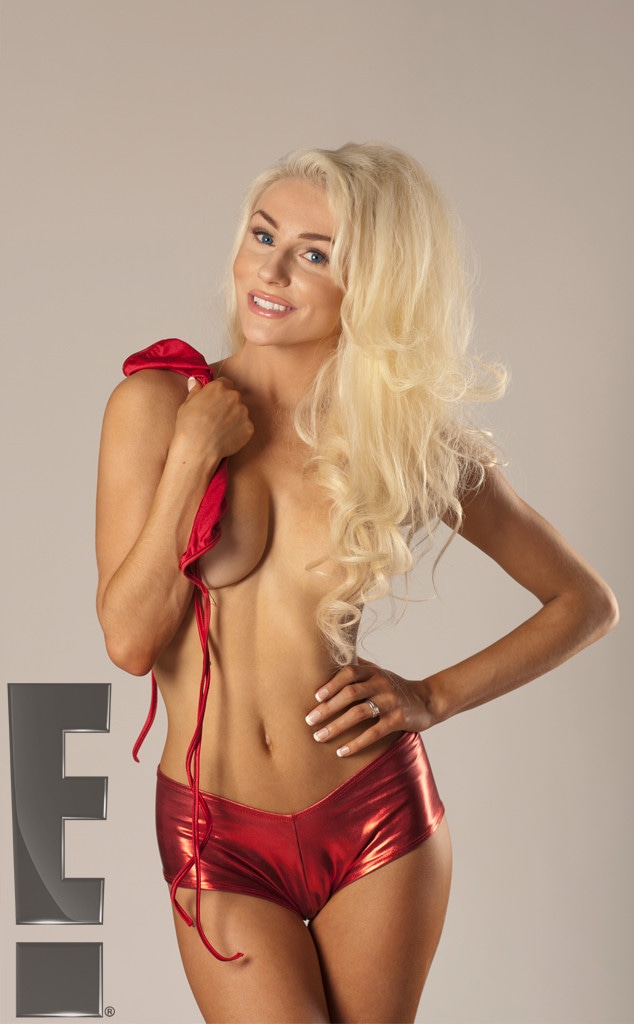 Coleman-Rayner.
Courtney Stodden is taking it all off for a sexy new photo shoot!
In these exclusive new pics, the 18-year-old blond bombshell is posing nude and in sexy lingerie.
So how does Stodden stay in shape and feel so confident? Read on for our interview with the starlet where she talks diet, fitness, style and ho to maintain a healthy marriage.
You have incredible body confidence. Have you ever had any hang-ups about what you look like? 
Actually, no. I absolutely love my body and everything about it. I work hard at keeping it tight and in shape, which gives me the confidence to show it off and feel great about myself.
If you could change one thing about what you look like, what would it be? 
My lips. Sometimes I wish they were a little more pouty when putting on my lipstick. So, eventually, I might look into plumping them just a tad.
What's the favorite part of your body?
My stomach. It's very toned and defined, so I like showing it off!
What's Doug's favorite part of your body?
My eyes, because he says he can look into my soul through them.
What are your top tips for looking hot in a bikini?
Work out, eat right, and tell yourself that no one else can work a bikini like you can.
Which celeb do you take your style cues from?
From the blond icons, of course! Jayne Mansfield, Marilyn Monroe, Pamela Anderson, Brigitte Bardot, even Mae West. I love 'em all!
Do you work hard to keep in tip top shape? Do you follow a specific diet/exercise regime?
I definitely try my hardest at making it a priority, yes. I do ab exercises, squats, take hikes through the Hollywood Hills and I hardly eat after 6 p.m. on a normal night.  
When do you feel most confident?
I feel the most confident when someone makes me laugh in the moment, and I'm not thinking about the exterior.
What one item of clothing can instantly make you feel a million bucks?
A pair of 7-inch heels!
If you could give us one tip to help us be more body confident, what would it be?
Start with looking in the mirror, and point out the parts of your body that you love and wouldn't want to change. That makes you feel more confident, and when you're more confident about yourself, you're that much more sexy to others.
You and Doug clearly have a good marriage. What's your trick to keeping your relationship spicy?
Doug and I have a great friendship. I think that contributes to our relationship in many ways. And we make each other laugh a lot!