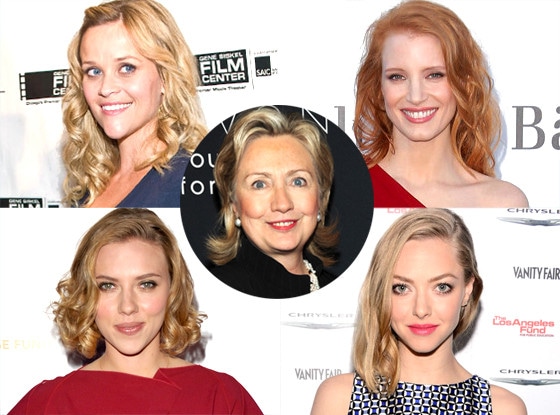 Jason Kempin/Kevin Mazur/John Shearer/Getty Images; Todd Williamson/Invision/AP
It would not be an easy feat to fill Hillary Rodham Clinton's political pumps, but four A-list actresses are vying to try.  
Scarlett Johansson, Reese Witherspoon, Amanda Seyfried and Jessica Chastain are reportedly the front-runners to play the former secretary of state in the James Ponsoldt-directed biopic, Rodham.
The film will focus on the former first lady's early years, chronicling her days as a Washington lawyer in 1974 at the height of the Watergate scandal. 
"They're all wonderful actresses," Ponsoldt told The Independent. "We're very fortunate that a lot of really great actors are interested in playing these roles. We're in an enviable position."
He added: "Regardless of people's political affiliation or how they feel about Hillary Clinton, you don't find people who question the quality of her intelligence or her drive. I want a wonderful actress who could embody that."
The film's release is set to be timed with the 2016 presidential election, where Clinton could be a candidate for the Democratic party. 
Who do you think should play Hillary on the silver screen? Tell us in the comments!