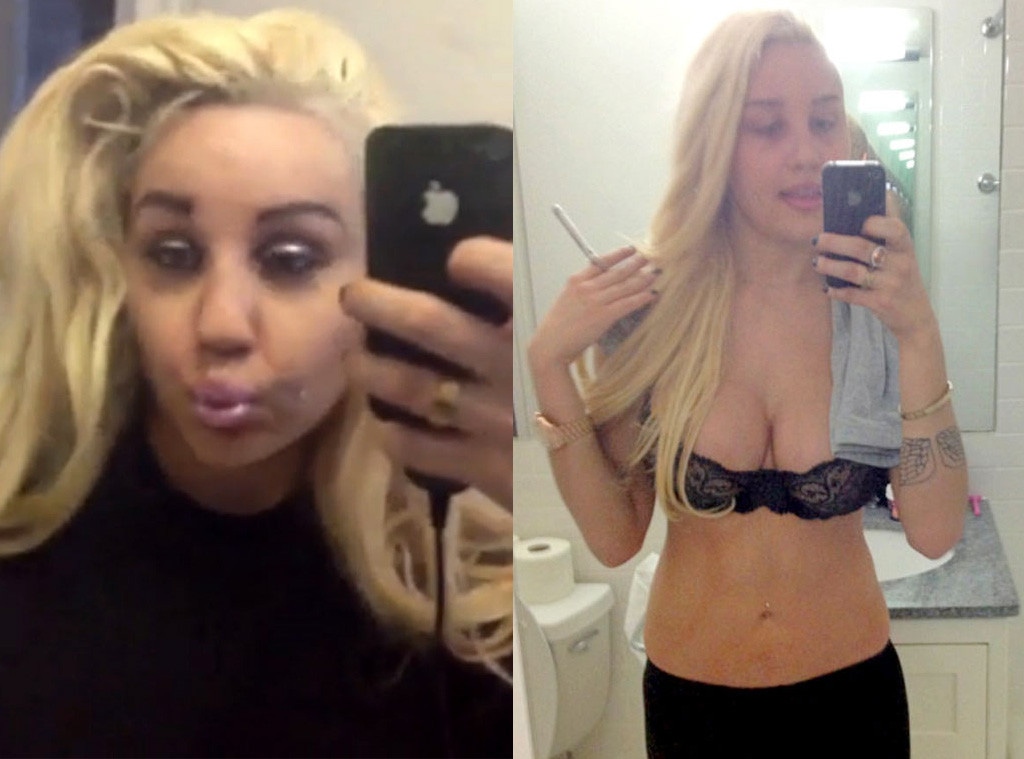 Twitter
Amanda Bynes' most recent downward spiral isn't exactly a surprise to those who've been following the former Nickelodeon star's legal problems.
With her arrest last night at her New York City apartment for reckless endangerment and marijuana possession, E! News looks back at how the 27-year-old star has become better known for her rap sheet than her once-promising acting career.
Here's a timeline:
March 7, 2012: Bynes is pulled over by Los Angeles police for allegedly chatting on her cell phone while driving. She subsequently bolted from the scene before the deputy could finish writing up her ticket. However, she was not arrested and returned to the station to sign her ticket.
April 6, 2012: What a Girl Wants star is arrested and charged with a misdemeanor DUI after getting into a minor fender-bender with a police cruiser. 
April 10, 2012: Bynes reportedly slams into a car on the 101 freeway in Los Angeles' San Fernando Valley, then flees the scene, per published reports. She subsequently denied the story on Twitter. 
May 5, 2012: Actress is pulled over by LAPD in Hollywood, this time after she allegedly sideswiped a man's car with her Range Rover. She was not arrested, with police taking a traffic report instead.
June 5, 2012: Bynes is charged in a Los Angeles court with driving under the influence. She pleads not guilty.
Aug. 6, 2012: LAPD investigate a report that the thesp was involved in a second hit-and-run accident when she rear-ended a BMW, then failed to provide the owner of the car with her insurance information as required by law before taking off. 
Aug. 20, 2012: Bynes gets into another accident after she's rear-ended by another driver. However, this time she and the other party exchanged information and police are not needed.
Sept. 4, 2012: Bynes is charged with two misdemeanor counts of hit-and-run stemming from the two prior incidents.
Sept. 6, 2012: California Department of Motor Vehicles revokes her license. 
Sept. 9, 2012: Bynes is pulled over again, this time for driving without her headlights on.
Sept. 16, 2012: Bynes' vehicle impounded by police after cops caught her driving with a suspended license.
Sept. 21, 2012: L.A. City Attorney's Office charges her with driving with a suspended license. She subsequently pleads not guilty.
March 28, 2013: Bynes tweets that she's planning to sue Us Weekly and PerezHilton.com over their negative coverage of her, including the latter site's suggestion that she's "mentally unstable."
April 4, 2013: Amanda tweets she has an eating disorder, the latest in an ever-growing number of disturbing tweets.
April 23, 2013: Bynes denies she was kicked out of a Planet Fitness gym in Harlem for smoking marijuana in the women's restroom. A gym rep tells E! News she's "no longer a member" but did not provide further details.
April 25, 2013: Another Britney? Bynes posts a twitpic revealing she's shaved her hair.
May 9, 2013: Bynes pleads no contest to a charge of driving with a suspended license in a Burbank, Calif. court and is sentenced to three years of summary probation and ordered to pay a fine of $1,400. Her DUI case in Beverly Hills is still pending however.
May 22, 2013: Starlet threatens to sue In Touch Weekly over photos she claims were "fake" and "altered" because "they f--king hate me."
May 23, 2013: Bynes is collared after allegedly throwing a bong out of her midtown apartment window when cops turn up in response to a call about a disorderly person in her building. She is booked on charges of reckless endangerment and pot possession and taken to Roosevelt Hospital for a psychiatric evaluation before being transferred to a police station.