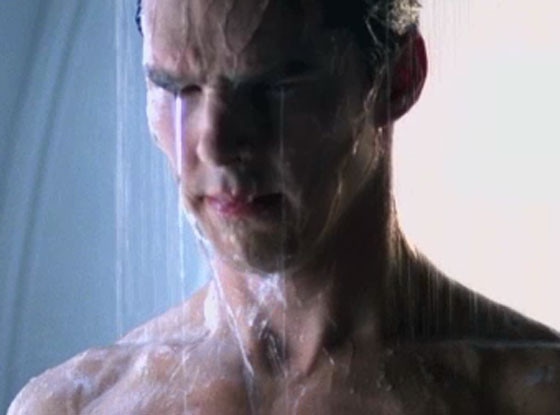 Well, it's tit for tat.
Star Trek Into Darkness director J.J. Abrams spurred grumblings for including a head-scratching scene that showed Alice Eve in her undies—a scene that critics slammed as sexist and that writer Damon Lindelof admitted was "gratuitous."
So on last night's Conan, Abrams attempted to make amends by putting baddie Benedict Cumberbatch in the hot seat. Or rather, under the shower.
The director trotted out a deleted scene showing the dashing Brit all soaking wet—an apology, of sorts, for the Eve skin flash, which Abrams admitted could have been pulled off better.
"I don't think I quite edited the scene in the right way," he told Conan O'Brien about the lingerie looky-loo.
"To me it was a sort of a balance," he added, explaining that there was an earlier scene showing Chris Pine's Captain Kirk shirtless, which made Eve's scene "a sort of a trade-off."
Still, "some people felt like it was exploiting her, and while she is lovely, I can also see their point of view," Abrams said.
Abrams then busted out the clip of Cumberbatch taking a shower, replete with dramatic music and the actor's brooding stare.
"It's not in the movie but we have this, and it is one of those things we ended up cutting," Abrams said, much to the delight of Cumberbatch fanatics everywhere.
"He's not enjoying that shower very much," O'Brien cracked, to which Abrams responded: "No, that was a shower of evil."
Well, that's certainly one way to wash off all that lingerie controversy.