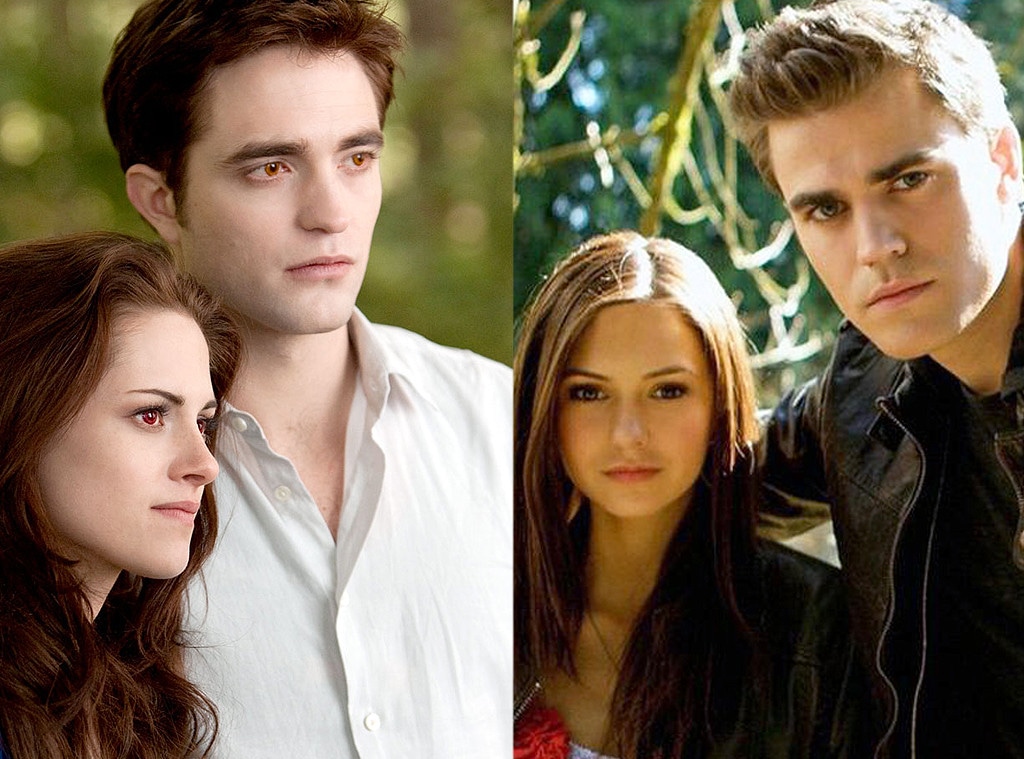 Andrew Cooper/SMPSP/Summit Entertainment, Alan Markfield/The CW
The first wave of Teen Choice Award nominations was announced today and, though The Twilight Saga has ended, its immortal beloveds will live on thanks to fan-based voting.
The final installment of the franchise, Breaking Dawn Part 2, racked up seven nods, leading the way heading into this year's show—and close behind, albeit on a smaller screen, is The Vampire Diaries, with five nominations.
Justin Bieber and Billboard Music Awards kissing buddy Selena Gomez are each up for Male and Female Hottie, respectively (obvs), with the Biebs going up against Liam Hemsworth, Taylor Lautner, Harry Styles and Channing Tatum, while Selena faces off against Miley Cyrus, Megan Fox, Mila Kunis and Demi Lovato.
Keeping things interesting, Taylor Swift and her One Direction ex will be squaring off against each other for Choice Smile, and E!'s own Keeping Up With the Kardashians is nominated for Choice Reality TV Show.
But that's just the beginning. Here is the complete first round of nominations for the 2013 Teen Choice Awards, airing Sunday, Aug. 11, on Fox.
MOVIES
Choice Movie: Action
G.I. Joe: Retaliation
Iron Man 3
Skyfall
The Bourne Legacy
The Dark Knight Rises
Choice Movie Actor: Action
Christian Bale, The Dark Knight Rises
Daniel Craig, Skyfall
Robert Downey, Jr., Iron Man 3
Chris Hemsworth, Red Dawn
Dwayne Johnson, G.I. Joe: Retaliation
Choice Movie Actress: Action
Jessica Biel, Total Recall
Anne Hathaway, The Dark Knight Rises
Adrianne Palicki, G.I. Joe: Retaliation
Gwyneth Paltrow, Iron Man 3
Rachel Weisz, The Bourne Legacy
Choice Movie: Sci-Fi/Fantasy
Beautiful Creatures
Iron Man 3
Oblivion
Oz the Great and Powerful
The Twilight Saga: Breaking Dawn–Part 2
Choice Movie Actor: Sci-Fi/Fantasy
Tom Cruise, Oblivion
Robert Downey, Jr., Iron Man 3
James Franco, Oz the Great and Powerful
Taylor Lautner, The Twilight Saga: Breaking Dawn–Part 2
Robert Pattinson, The Twilight Saga: Breaking Dawn–Part 2
Choice Movie Actress: Sci-Fi/Fantasy
Mila Kunis, Oz the Great and Powerful
Gwyneth Paltrow, Iron Man 3
Saoirse Ronan, The Host
Kristen Stewart, The Twilight Saga: Breaking Dawn–Part 2
Michelle Williams, Oz the Great and Powerful
Choice Movie: Drama
Argo
Les Misérables
The Great Gatsby
The Impossible
The Perks of Being a Wallflower
Choice Movie Actor: Drama
Ben Affleck, Argo
Bradley Cooper, The Words
Leonardo DiCaprio, The Great Gatsby
Hugh Jackman, Les Misérables
Logan Lerman, The Perks of Being a Wallflower
Choice Movie Actress: Drama
Halle Berry, The Call
Anne Hathaway, Les Misérables
Carey Mulligan, The Great Gatsby
Emma Watson, The Perks of Being a Wallflower
Naomi Watts, The Impossible
Choice Movie: Comedy
Identity Thief
Peeples
Pitch Perfect
The Incredible Burt Wonderstone
Warm Bodies
Choice Movie Actor: Comedy
Skylar Astin, Pitch Perfect
Jason Bateman, Identity Thief
Steve Carell, The Incredible Burt Wonderstone
Nicholas Hoult, Warm Bodies
Craig Robinson, Peeples
Choice Movie Actress: Comedy
Anna Kendrick, Pitch Perfect
Melissa McCarthy, Identity Thief
Kerry Washington, Peeples
Olivia Wilde, The Incredible Burt Wonderstone
Rebel Wilson, Pitch Perfect
Choice Movie: Romance
Beautiful Creatures
Les Misérables
Safe Haven
The Twilight Saga: Breaking Dawn–Part 2
Warm Bodies
Choice Movie Actor: Romance
Josh Duhamel, Safe Haven
Alden Ehrenreich, Beautiful Creatures
Nicholas Hoult, Warm Bodies
Robert Pattinson, The Twilight Saga: Breaking Dawn–Part 2
Eddie Redmayne, Les Misérables
Choice Movie Actress: Romance
Jessica Biel, Playing for Keeps
Alice Englert, Beautiful Creatures
Julianne Hough, Safe Haven
Amanda Seyfried, Les Misérables
Kristen Stewart, The Twilight Saga: Breaking Dawn–Part 2
TELEVISION
Choice TV Show: Drama
Gossip Girl
Nashville
Pretty Little Liars
Revenge
Switched At Birth
Choice TV Actor: Drama
Penn Badgley, Gossip Girl
Joshua Bowman, Revenge
Lucas Grabeel, Switched At Birth
Ian Harding, Pretty Little Liars
Nick Wechsler, Revenge
Choice TV Actress: Drama
Troian Bellisario, Pretty Little Liars
Blake Lively, Gossip Girl
Vanessa Marano, Switched At Birth
Hayden Panettiere, Nashville
Emily VanCamp, Revenge
Choice TV Show: Fantasy/Sci-Fi
Arrow
Beauty and The Beast
Once Upon a Time
Supernatural
The Vampire Diaries
Choice TV Actor: Fantasy/Sci-Fi
Jensen Ackles, Supernatural
Stephen Amell, Arrow
Jared Padalecki, Supernatural
Ian Somerhalder, The Vampire Diaries
Paul Wesley, The Vampire Diaries
Choice TV Actress: Fantasy/Sci-Fi
Katie Cassidy, Arrow
Nina Dobrev, The Vampire Diaries
Ginnifer Goodwin, Once Upon a Time
Kat Graham, The Vampire Diaries
Kristin Kreuk, Beauty and the Beast
Choice TV Show: Action
Chicago Fire
Elementary
Hawaii Five-0
NCIS: Los Angeles
Nikita
Choice TV Actor: Action
Scott Caan, Hawaii Five-0
LL Cool J, NCIS: Los Angeles
Jonny Lee Miller, Elementary
Jesse Spencer, Chicago Fire
Shane West, Nikita
Choice TV Actress: Action
Lyndsy Fonseca, Nikita
Lucy Liu, Elementary
Grace Park, Hawaii Five-0
Maggie Q, Nikita
Monica Raymund, Chicago Fire
Choice TV Show: Comedy
The Big Bang Theory
Glee
Modern Family
New Girl
Suburgatory
Choice TV Actor: Comedy
Chris Colfer, Glee
Jake Johnson, New Girl
Ashton Kutcher, Two And a Half Men
Jim Parsons, The Big Bang Theory
Eric Stonestreet, Modern Family
Choice TV Actress: Comedy
Kaley Cuoco, The Big Bang Theory
Zooey Deschanel, New Girl
Mindy Kaling, The Mindy Project
Lea Michele, Glee
Bridgit Mendler, Good Luck Charlie
Choice TV: Animated Show
Adventure Time
Bob's Burgers
Family Guy
Gravity Falls
The Simpsons
Choice TV: Reality Competition Show
American Idol
The Bachelor
Dancing with the Stars
The Voice
The X Factor
Choice TV: Reality Show
Dance Moms
Here Comes Honey Boo Boo
Keeping Up with the Kardashians
Married to Jonas
Tia & Tamera
MUSIC
Choice Male Artist
Justin Bieber
Bruno Mars
Phillip Phillips
Pitbull
Justin Timberlake
Choice Female Artist
Selena Gomez
Demi Lovato
Pink
Rihanna
Taylor Swift
Choice Music Group
Big Time Rush
fun.
Maroon 5
One Direction
The Wanted
Choice R&B Artist
Beyoncé
Alicia Keys
Bruno Mars
Miguel
Trey Songz
Choice Hip-Hop/Rap Artist
Drake
Macklemore & Ryan Lewis
Nicki Minaj
Pitbull
Kanye West
Choice Rock Group
AWOLNATION
Imagine Dragons
Mumford & Sons
Paramore
The Lumineers
Choice Electronic Dance Music (EDM) Artist
Deadmau5
David Guetta
Calvin Harris
Kaskade
Skrillex
Swedish House Mafia
Choice Male Country Artist
Jason Aldean
Luke Bryan
Eric Church
Hunter Hayes
Blake Shelton
Choice Female Country Artist
Jana Kramer
Miranda Lambert
Kacey Musgraves
Taylor Swift
Carrie Underwood
Choice Country Group
Florida Georgia Line
Lady Antebellum
Little Big Town
The Band Perry
Thompson Square
FASHION
Choice Female Hottie
Miley Cyrus
Megan Fox
Selena Gomez
Mila Kunis
Demi Lovato
Choice Male Hottie
Justin Bieber
Liam Hemsworth
Taylor Lautner
Harry Styles
Channing Tatum
Choice Smile
Selena Gomez
Taylor Lautner
Demi Lovato
Harry Styles
Taylor Swift
SPORTS
Choice Female Athlete
Gabby Douglas
Missy Franklin
Alex Morgan
Danica Patrick
Lindsey Vonn
Serena Williams
Choice Male Athlete
David Beckham
LeBron James
Colin Kaepernick
Michael Phelps
Shaun White
OTHER
Choice Comedian
Ellen DeGeneres
Jimmy Fallon
Melissa McCarthy
Daniel Tosh
Rebel Wilson