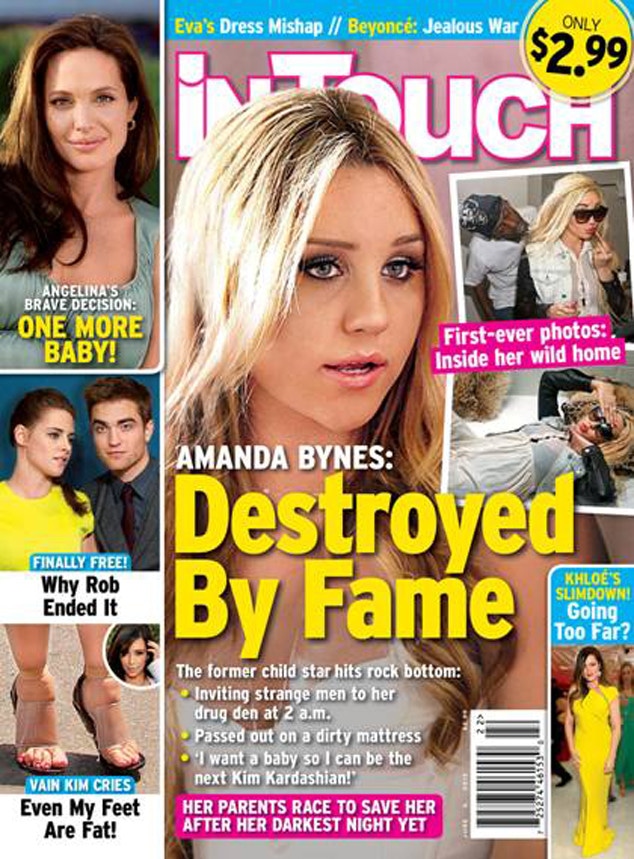 Courtesy of InTouch
Amanda Bynes is not happy. We know, because she indicated as much in a lengthy tweet.
Her ire is directed this time at In Touch Weekly, which, the actress claims, used "fake altered photos" to go with its new cover story about the star "because they f--king hate me."
The mag used an older photo of Bynes on the cover with the words "Destroyed By Fame," and in the issue, published a variety of what are billed as exclusive pictures from inside the starlet's New York City apartment, taken by photographer Giovanni Arnold.
"That's not my bed! Those aren't my toes! My toes are pedicured!" Bynes wrote. "They used an old shot of me on the cover with a bad angle of my old nose before I had surgery to reshape my profile and to remove the webbing from my eyes."
She then writes, "I have to sue because that's not my apartment, those aren't my clothes!"
The magazine "morphed photos of my face onto someone's body to ruin my life!" Bynes continues. "I have to make a big deal of this and sue because that's not me! I care about my appearance so I have to defend myself! I look like a different person now that I had surgery."
After also expressing her disappointment with In Touch on their choice of using an older image on its cover, Bynes concludes, "I don't care enough to keep talking about it. Just assume that I f--ked the boyfriend of the editor of intouch because they f--king hate me!"
UPDATE: A rep for In Touch tells E! News, "The photos of Amanda Bynes inside this week's issue of In Touch speak for themselves. We at In Touch have done our due diligence and research on the photos and the article that accompanies them."
They go on to say, "In Touch has not altered or photoshopped these photos in any way. Additionally, the photographer has assured In Touch that these photos of Amanda were not altered or photoshopped in any way prior to the magazine obtaining them and they are, in fact, of Amanda Bynes taken at Amanda's apartment in New York City. All of Amanda's claims pertaining to the photos in this week's In Touch are false."