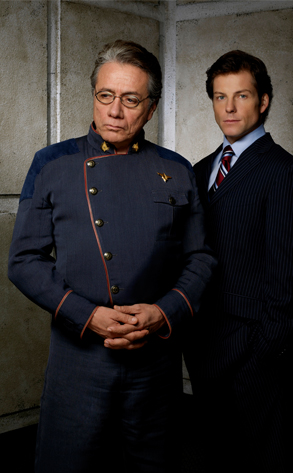 Justin Stephens/Sci Fi Channel
Frak yeah! Not only is Battlestar Galactica back this Friday, but I've just wrangled up some juicy scoop about the Caprica spinoff.
In case you haven't heard, Sci Fi has ordered a pilot called Caprica from BSG creator Ronald D. Moore. It goes back in time to before the creation of the Cylons for a look at life in the Colonies before, well, everything blew up.
Caprica is the story of two families, the Graystones and the Adams (better known to us now as the Adamas), and we'll be meeting the man who fathered and grandfathered the goodness that is Bill and Lee Adama (Edward James Olmos and Jamie Bamber). Interestingly, when I interviewed Ronald D. Moore last year, Caprica's plotlines were not directly tied to the characters we know from the current series. I asked RDM if there might be any Thrace-Adama-Agathon-Roslin ancestors in Caprica, and he told me, "Right now, there are no ancestors of anybody in the pilot." Well, looks like that changed in the intervening time, and thank goodness!
Read on to find out how the Graystones and the Adamas may have inadvertently started the First Cylon War...