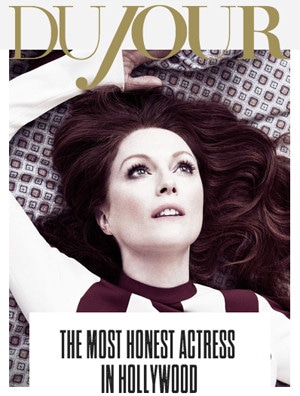 DuJour Magazine
Despite being in the acting game for nearly 30 years, Julianne Moore still worries about getting her next gig.
"There's not much certainty," she says in the latest issue of DuJour magazine. "You can have a great experience on something and then just be unhirable the next year. It could be over!"
Luckily for now the actress seems to be working quite frequently. In 2013 she's got films Don Jon, Carrie and The Seventh Son hitting theaters. Next year? She already has Maps to the Stars lined up.
If the mom-of-two—who is married to writer-director Bart Freundlich—did ever find herself in a slump (not that we think it's likely!), she always has motherhood to keep her busy, which she says "was something that I always wanted to do."
And though she's quite happy to be a mama, the Golden Globe winner also sounded off on Hollywood's double standard when it comes to age and having a family. "Men aren't asked about age. Men aren't asked about their children. Not that these things aren't important, but I do feel like it becomes reductive when a woman's life becomes, 'Talk to me about your kids and how you feel about plastic surgery.'"
Still, Moore says she's mainly shocked and grateful for how her life turned out. "If I saw myself sitting here at 52, talking about my career and how I've been doing it for the last 30 years, I'd be like, 'Are you kidding me? It happened?"