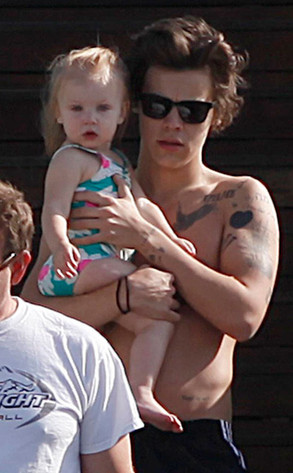 Splash News
As if enough women didn't already want to have Harry Styles' babies!
The One Direction boy-bander showed off his fatherly side yesterday, carefully holding an adorable baby girl by the pool at Barcelona's W Hotel. Oh yes, and he was shirtless.
The 19-year-old Brit is no newbie when it comes to taking care of the little ones. When he and Taylor Swift were dating this past December, they visited NYC's Central Park Zoo with Harry's stylist's baby, Lux. He doted on the little girl as she looked on at the animals in their enclosure. And if things get serious with 33-year-old Kimberly Stewart, mom to 21-month-old Delilah, he's going to be spending a lot more time on daddy duty.