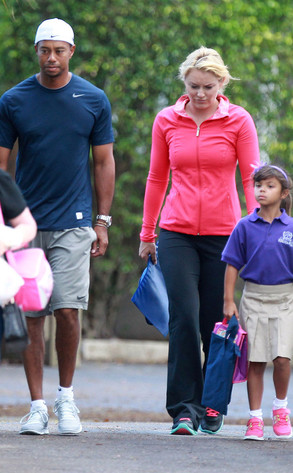 Ralph Notaro / Splash News
If Tiger Woods and Lindsey Vonn want people to know they're serious about their relationship, playing house is certainly a good way to show it.
The Olympic skier was snapped happily tagging along with the golf superstar as he took his two children—5-year-old Sam and 4-year-old Charlie—to school in North Palm Beach, Fla., Tuesday morning.
Woods, 37, and Vonn, 28, announced they were dating in March and since then, she's remained by his side for the most part—whether watching Tiger win The Players Championship earlier this month, or seeing her man lose in the first round of the charity Las Vegas poker tournament that bears his name, Tiger's Poker Night, this weekend.