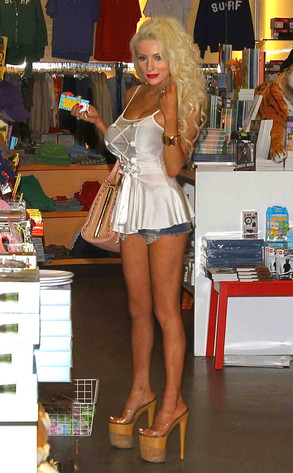 Sellebrity RICK / Splash News
Courtney Stodden isn't afraid to flaunt her skimpily clad body for the cameras in public. And apparently, she has no qualms about wearing even less for the cameras in private.
Surprise, surprise: The provocative teen bride reveals exclusively to E! News that she's made a sex tape. But—before you start girding for a brouhaha of Farrah Abraham proportions—the 18-year-old adds that the video, which reportedly features her solo and was supposedly shot recently after she turned 18, is private.
The tape, Stodden told us Thursday at the Dr. Ava Cadell's Sizzling Sexy Summer 2013 Seminar featuring a Shekhar Rahate fashion show in Los Angeles, is "not out in the media" nor is it on her computer, and she advises wannabe hackers not to get their hopes up.