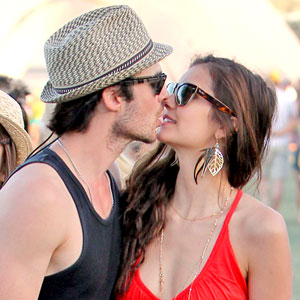 Ben Dome/Nathanael Jones/PacificCoastNews.com
It's no surprise that Ian Somerhalder and Nina Dobrev were consummate professionals when they made a joint appearance earlier today at the CW's Upfronts in NYC.
"They're still friends," a source tells me.
As you may have heard, the Vampire Diaries stars broke up last week after more than three years of dating.
"There's no bad blood between them," the source said. "There was no other person involved or any big fight."
The source said the two decided to call it quits after realizing that Dobrev wasn't ready to settle down as much as Somerhalder has wanted.
"They still talk daily," the source said. "This wasn't something out of the blue."