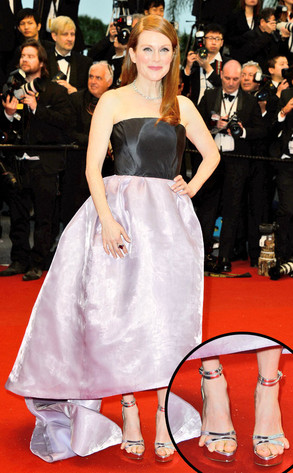 Pascal Le Segretain/Getty Images
Julianne Moore looked tres chic in a lovely Dior gown at the Cannes 2013 opening ceremony red carpet, but we have to admit we were somewhat distracted by her strappy silver sandals—or, more specifically, the way her pinky toes conspicuously spilled from the sides of the metallic shoes.
From the looks of things, we're guessing the ravishing redhead didn't try her heels on until right before she walked the red carpet, which is a shame because she could have made a pretty—and pretty comfortable—style statement with plenty of other snazzy shoes.
In fact, we've rounded up five heels that Moore—or perhaps her stylist?—should have packed as backup to avoid this Cannes don't!