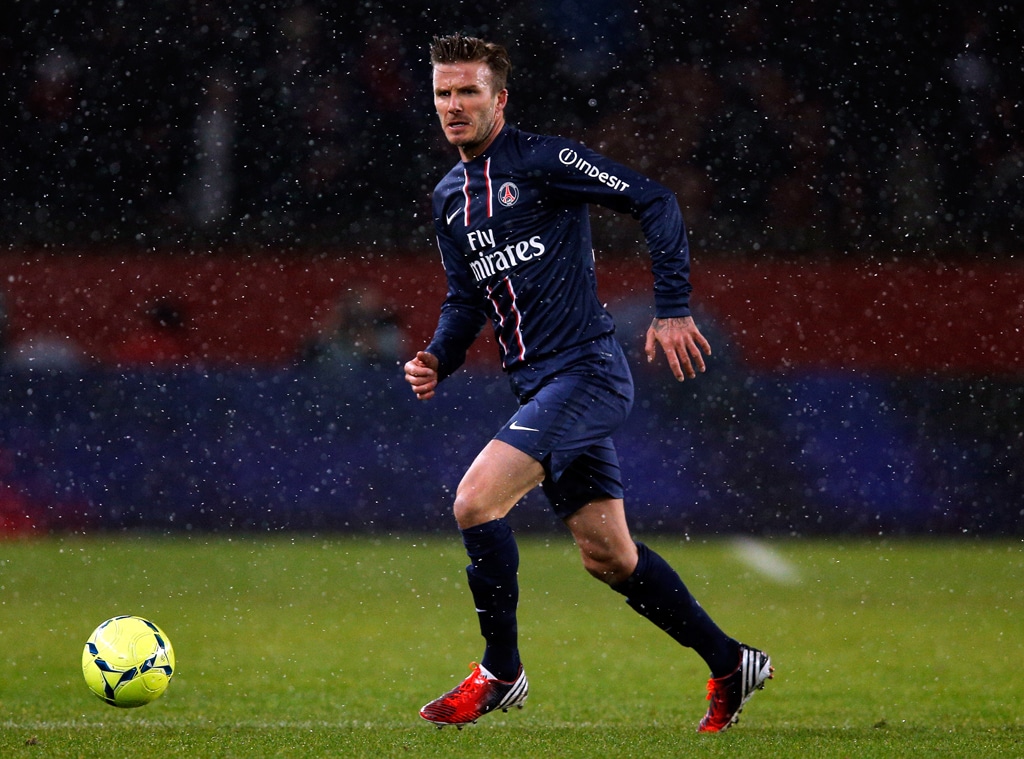 Dean Mouhtaropoulos/Getty Images
With his announcement today that he's retiring from soccer at the end of the season at age 38, David Beckham will leave quite a legacy both on and off the field.
E! News runs down the achievements of his storied career, including vital stats, record paydays, goals scored and other hallmarks of a player who'll go down as one of the greatest to ever play the game.
Here's Beckham by the numbers: 
• A right midfielder, Beckham has 522 career appearances since turning pro in 1992, 265 of those appearances coming with Manchester United, where he made his greatest mark.
• With the exception of a brief stint on loan to Preston North End in the 1994-1995 season and Milan between 2008 and 2010, the phenom played for four clubs—Manchester United (1992-2003), Real Madrid (2003-2007), Los Angeles Galaxy (2007-2012), and Paris Saint-Germain 1 (2012-2013).
• 97 career goals, 62 of them with Manchester United, for whom he began playing at age 18 in the club's training division before becoming a full-time starter by age 20 in the Premier League in 1995.
• In 1996, he made his debut on the England National Team, for whom he made a total of 115 appearances and scored 17 goals.
• During the 1998 season, he was part of the team that earned the famous Treble, winning the Premier League, FA Cup and Champions League.
• The superstar won six Premier League titles, two FA Cups and a 1999 Champions League title with Manchester United, for whom he wore the coveted number 7 jersey.
• A record 115 appearances on England's national football team, including three World Cup Appearances.
• Beckham is the first England player to ever get two red cards, his most notorious one coming in the 1998 World Cup game against Argentina, in which he became the first-ever captain to get the boot.
• Beckham captained England a record 59 times, the fourth-highest total ever.
• He also is the only English player (and 21st in the world) to score in three separate World Cups.
• In 1999, Beckham married Victoria Adams, aka Posh Spice from the all-girl group Spice Girls, and the couple became a tabloid sensation known as "Posh and Becks."
• In 2002, Manchester United resigned Beckham to a three-year $22 million contract.
• In 2003, after confrontations with Man U's manager Alex Ferguson, he was transferred to Spain's Real Madrid, where he earned a whopping $45 million, making him at the time one of the highest-paid players in the world.
• With Real Madrid, he wore number 23 for his jersey in honor of Michael Jordan.
• In 2003, Beckham was awarded an OBE, or Order of the British Empire, by Queen Elizabeth II.
• In 2007, Beckham signed a $32.5 million, five-year contract to play for the struggling Los Angeles Galaxy, for whom he scored a total of 18 goals in 98 appearances, winning two league championships.
• That same year, David earned $13.7 million for a fragrance line he endorsed.
• Beckham's charity work is plentiful as well: He served as a Goodwill Ambassador for UNICEF, helping found Malaria No More UK and supporting MLS W.O.R.K.S. among other notable organizations.
• During the 2012-2013 season and his last playing soccer professionally, Beckham led Paris Saint-Germain to Ligue 1 title.
• Forbes estimates Beckham's wealth at $250 million thanks to lucrative endorsement deals with such companies as H&M, Adidas and Samsung, landing him in eighth place in the magazine's list of the World's Highest Paid Athletes.
• Beckham has 20 tattoos.