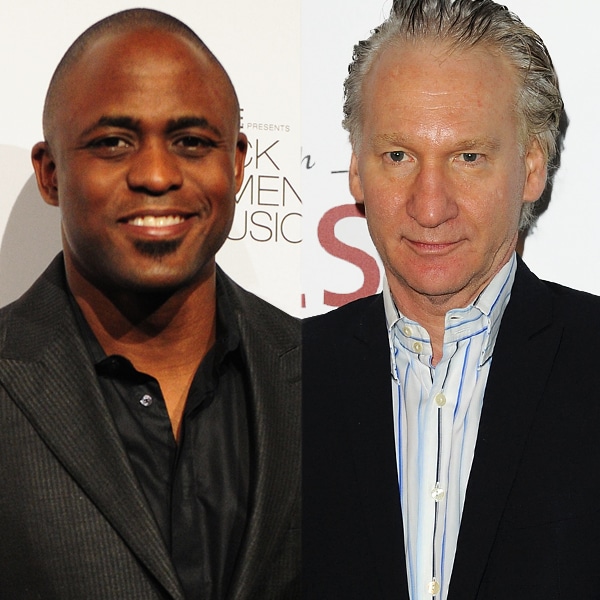 FREDERIC J. BROWN/AFP/Getty Images; Jason Merritt/Getty Images
Since he hasn't made good on his offer and "slapped the s--t" out of Bill Maher yet, perhaps Wayne Brady feels he still needs to prove himself to the Real Time host.
Asked this week about being compared to Barack Obama in some of Maher's jokes, Brady said on HuffPost Live that he has "always respected" the comedian.
But the actor and TV host added, Maher's repeated use of Brady "as a cultural linchpin of his not-black-enough argument—that's bullshit."
Maher, who has made quips about Brady on his HBO show Real Time before, said on CNN back in 2010: "I thought when we elected the first black president, as a comedian, I thought that two years in that I'd be making jokes what a 'gangsta' he was. You know. And not that he's President Wayne Brady, you know, I thought we were getting Suge Knight."
So we're talking years of bad blood between the two.
"Bill Maher has never walked in my shoes or any black man's shoes," Brady continued to HuffPo, bringing up remarks he made last July on Aisha Tyler's podcast in which he suggested that Maher dating black women did not make him an expert on being black.
"Just because you've done that, now you've lived the black experience? Now you're down? No," he reiterated this week.
"The fact of the matter is...the black man in his mind is stereotypical 'What?' 'You know, that dude.' That guy exists, but that's not the range of the black experience," Brady continued. "So then, when I meet you, when I talk to you again, I'll give you that black dude, and I will beat your ass in public. And that's what I said."
"As I said in the interview, if I really played out the fantasy in my head, and I beat him in public—because I can—then Bill would take my house, and I wouldn't have a career and then my daughter would be living in a box. But then I'd sell my story to Oprah and I'd be even bigger!"
Ultimately, Brady acknowledged that Maher has quite the following, and it's the impressionable folks who might be listening that concern him.
"When Bill Maher says something like that, he has a segment of America's ear," Brady concluded. "So when he says that, that's OK for somebody at home to go, 'That's right. Guys that actually talk well and are black, that's not black. I like my blacks misunderstandables.' [Thanks for the new word, Wayne.] Yeah, so, that hurts me. Not hurts me me, that hurts me for our culture, because the fact of the matter is, I love our culture."
Maher has not responded to Brady's latest comments, but perhaps he'll address the reinvigorated feud on Friday's new episode of Real Time.