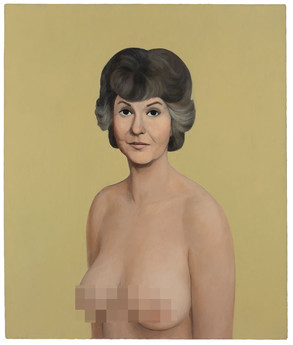 Courtesy: Christie's
Art is meant to be interpreted by eye of the beholder. So interpret how you will the painting Bea Arthur Naked, which features of Bea Arthur donning an elegant Victorian ensemble of cloaks and frills. Just kidding! She's crazy naked.
The oil painting, made by John Currin in 1991, was quite controversial at the time it was created, being labeled an "acrid fantasy...of menopausal women" by the New Yorker.
But now you can own it for your own personal viewing for the low, low price of somewhere between $1.8 million and $2.5 million when it goes on auction at Christie's Post-War and Contemporary Evening Sale!
And if you want to see the uncensored portrait, because you appreciate art, you can view it here.