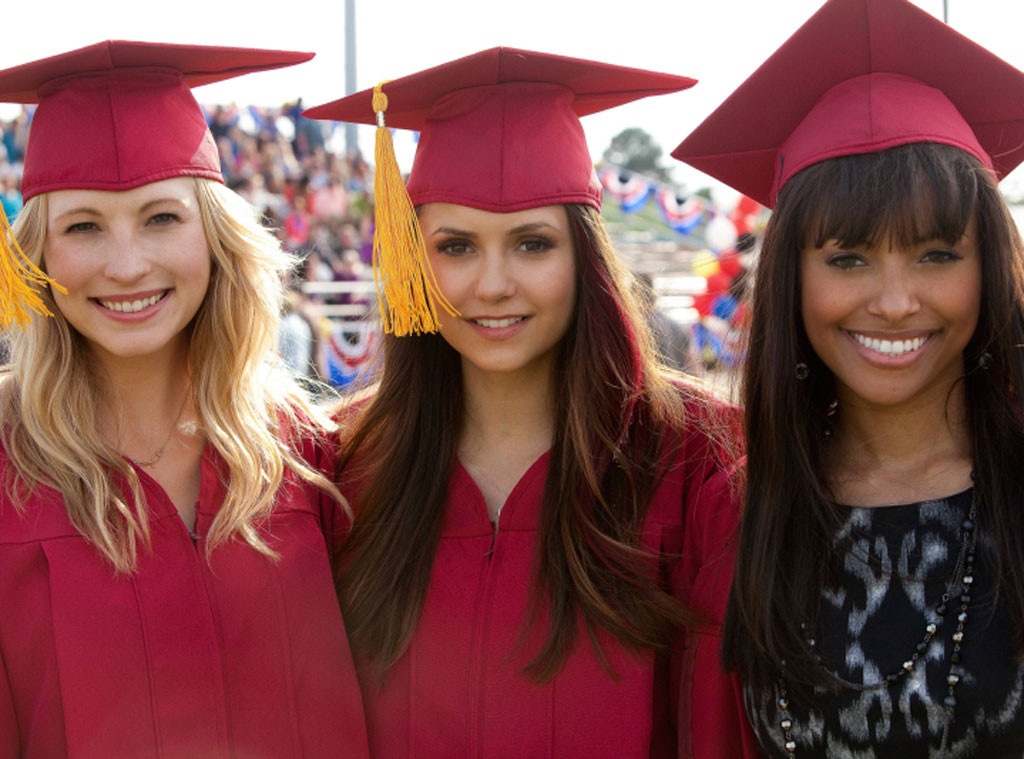 Annette Brown/The CW
As we go on, we remember all the times we had together...
Four vampires, one witch-ghost and one human-as-apple-pie quarterback graduating from high school? Only on The Vampire Diaries! The CW hit's beloved characters are all set to receive their diplomas and toss their graduation caps up in the air...all while dealing with some serious supernatural craziness going down in the season-four finale on Thursday night. You know, just another typical day in Mystic Falls.
We chatted with executive producer Julie Plec about the season four finale, including Bonnie's (Kat Graham) "bittersweet sacrifice," Klaus (Joseph Morgan) and Caroline's (Candice Accola) future now that he's off to headline The Originals spin-off and Elena and Katherine's Dynasty-style fight that was years in the making! Plus, will Elena and Damon's (Ian Somerhalder) sire-bond come back into play when she makes her choice between the brothers?
Elena's Choice, Take Two: While season three's finale also featured Elena making a choice between the Salvatore brothers, Plec previews that our heroine isn't the same human girl who chose Stefan (Paul Wesley) just before dying and coming back as a vamp. "I think that in last year's finale it was very clear that Elena was struggling with feelings for both brothers and needed to make a decision about what she wanted her life to be and who she wanted to share that life with," she explains. "This year, she's had a very traumatic roller coaster of life experience and it's changed her irrevocably—and at the center of it all was the diehard belief that she loved Damon, that she loved him more than she'd ever loved anyone.
She continues, "Her struggle has been with the realization of the sire bond that she couldn't even trust those feelings to be true. So it's more about answering the truth of those feelings and as a result does that mean her distance from Stefan was also not real and not true? She handles that realization pretty well and it's a great, great, great scene."
Doppelgänger Dragout: Fans who have been salivating over the possible Katherine and Elena fight will not want to miss the finale, with Plec teasing, "Ever since we introduced Katherine, we've been waiting to have a knockout, dragout Alexis and Crystal Dynasty-style fight between these two women and it definitely doesn't disappoint. There's no ball gowns and swimming pools, but otherwise I think we do it justice!" Can we get an amen?!
Crossover Lovers?: "There's a moment between them in the finale that basically makes it clear where Klaus stands and where Caroline stands," Plec teases of the fan-favorite couple before  Klaus heads off to New Orleans for The Originals. "Rather than completely shutting any doors, it actually, if anything, opens a new one. We've never wanted to compromise the Klaus-Caroline with the idea that there would be this other show she wouldn't potentially be on, so we're making decisions as though we would continue their journey in perpetuity, for better or for worse, whether she ever cared for him or not, and if we need to cross over between the two shows than we will."
As for Caroline's beau Tyler (Michael Trevino), Plec says his future in Mystic Falls will be addressed. "That is definitely resolved. We'll understand what Klaus' intentions are as they relate to Tyler and we'll get a sense of what we might see in the future," she previews.
Death Can Wait, I Need to Graduate: After her shocking death in last week's episode, Bonnie the ghost is on a mission in the finale, to bring the veil back up...even if it means crossing over to the other side for good. "It's a bittersweet journey for her and she has to prepare to make that sacrifice knowing that it will be the thing that separates her from her friends forever," Plec says. "But in the midst of it all there's graduation. [Laughs.] And there's her friends together and she's going to make damn sure she doesn't miss that!"
Slow Burn: In a departure from the first three seasons, TVD played it slow and steady with season four's big bad, Silas, a conscious choice made by Plec and the writers.
"We definitely knew that we wanted to slow-play the beginning of the mythology this season and rather than instantly set up a bad guy and an agenda, it would be a mystery not only to our characters, but to the audience as well," she explains. "Being able to unfold the mystery of Silas over the course of a season had its pitfalls and also its benefits, and I think ultimately, when the audience sees how it ends in this episode, they may start to understand the choices we made and why we made them."
The Vampire Diaries season four finale airs tomorrow night at 8 p.m. on the CW. Check back with us tomorrow for more exclusive scoop from Plec on "Graduation"!