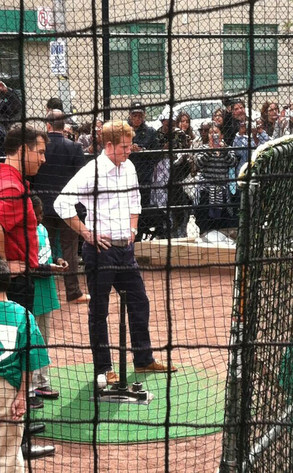 Twitter
Swoon.
As if Prince Harry hasn't done enough during his U.S. tour to make the ladies' hearts melt, he goes off and plays some T-ball with the kids.
After visiting damaged areas of New Jersey affected by Hurricane Sandy with Gov. Chris Christie this morning, he young royal made is way to Harlem, where he teamed up with Harlem RBI, a nonprofit organization designed to provide inner-city youth with opportunities to "recognize their potential and realize their dreams" by coaching and playing on teams.
During Harlem RBI's Field of Dreams event, Prince Harry was joined by New York Yankees' first baseman Mark Teixeira and Sen. Jose Serrano as he coached the kids and even stepped up to bat.