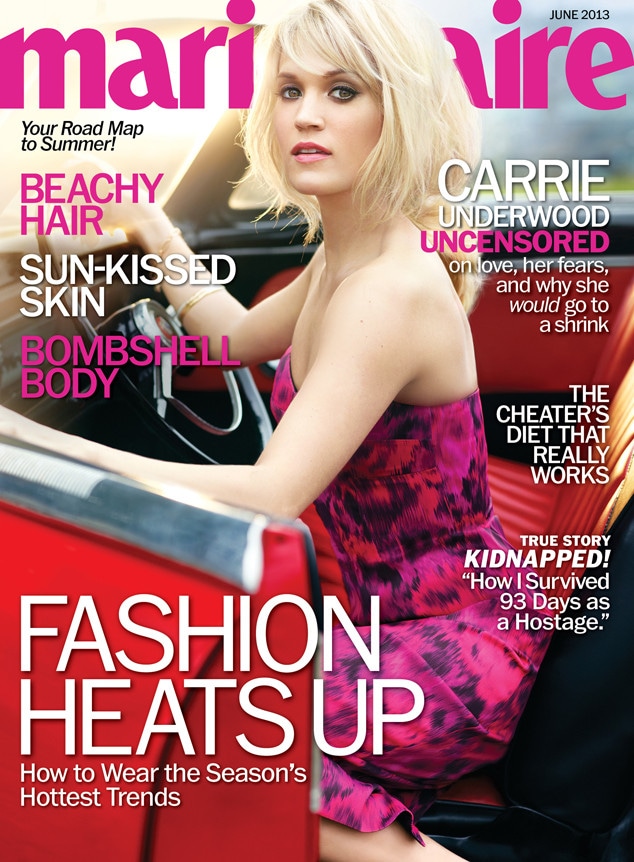 MARIE CLAIRE
Carrie Underwood isn't ready for babies just yet!
In the June issue of Marie Claire, the 30-year-old country star explains why she and husband Mike Fisher aren't ready to start a family.
"I don't feel old enough to have kids," she says. "I know I am mature. But being responsible for another human?"
Fair point. Not to mention, Ms. Underwood, who describes her siblings as "quite a bit older than me," admits she has "the only-child syndrome going on."
Meaning? "I'm a little more selfish, a little more independent, a little closed," she explains. "I do wish I were softer. I wish I were able to form relationships better. But hey, I mean…I'm not a sociopath."
A sociopath, no. But awkward? Um, well: "My husband calls me the queen of awkward moments," she says. "Anything that can be made awkward, I will make it awkward."
Well, if so, this awkward gal seems to have a clairvoyant streak as well. In Carrie's high school yearbook, she was asked to describe where she would be in 10 years. "I said, 'I will be rich, famous, and married to a hot guy'," she says. "I guess I should have added a few more things."
If only everyone's senior year wishes turned out like this all-American girl's!