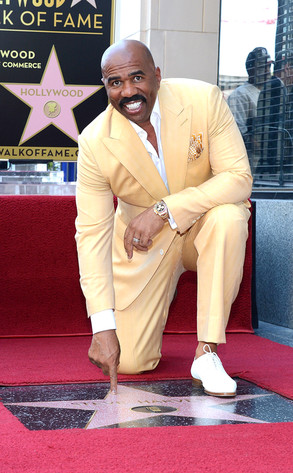 Jason Kempin/Getty Images
Feel free to walk all over Steve Harvey.
The comedian, sporting a bright yellow suit, received a star on the Hollywood Walk of Fame today—and this great honor had nothing to do with luck, Harvey explains to E! News.
"People call it luck, but what luck actually is—luck is when hard work runs up into opportunity and people describe it as luck," he tells us.
"I do work very hard, I kid you not—but I'm also a recipient of a lot of grace and mercy. God has given me much favor to be here. But the rest of it is hard work and that combination. It's such a reward that has paid off. It's so rewarding."