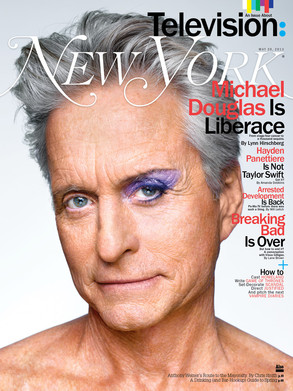 Martin Schoeller/New York Magazine
Michael Douglas is getting into character.
The actor, who is portraying Liberace in his latest biopic Behind the Candelabra, dressed in drag for his spread in New York Magazine, posing either in the kitchen with his coffee mug in hand or laying on a lavish green armchair, wearing only a pink robe and in some cases, a bit of purple eyeshadow.
During his interview with the mag, Douglas spoke about his gay love scenes with costar Matt Damon (which we already know were "comfortable") and his own personal memories of the flamboyant pianist.