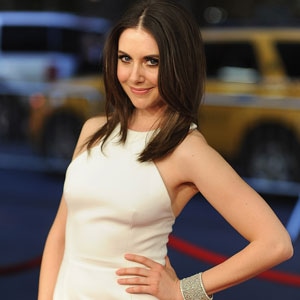 Dimitrios Kambouris/WireImage
Yes, Alison Brie is talking about nude pictures.
"I know naked photos exist of me from this trip with friends to Lake Tahoe," the Mad Men and Community star revealed to comedian Marc Maron on his WTF podcast while recalling a post-college getaway. "I would take off all my clothes and go run outside and be like a little wood nymph and get on a weird exercise machine."
But the 30-year-old actress doesn't seem too concerned if such shots were to get leaked.
"I know there's got to be some naked photos somewhere. I just keep waiting for them to surface," she said nonchalantly, while also noting: "I don't think that I present myself as a person who's never taken naked photos."
But Brie insisted that if such pics did were made available for all the world to see, she "would have to then release other nude photos to be like, 'No wait, see, no actually when I'm trying to look good naked, I could.'"
Hmm, we're guessing putting out such selfies probably won't be necessary. Not that we would discourage it!