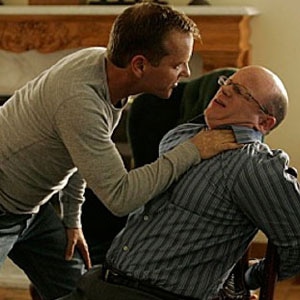 FOX
Jack Bauer is ready to save the world. Again.
Fox is looking to bring back Kiefer Sutherland's popular series 24, sources confirm to E! News.
While the network tells us a 24 revival has not been confirmed at this point, our sources tell us it's definitely happening and Sutherland is set to return for a limited run of the series.
24 went off the air in 2010 after a successful eight-season run. Showrunner Howard Gordon, who is now an executive producer on Showtime's hit Homeland, came up with the idea for 24's return, which would play like a final season.
This isn't the first time 24 has eyed a revival as plans for a movie were scrapped in March 2012 "due to timing. Budget, salaries, etc. were never set," 20th Century Fox explained at the time.
News of 24's potential return comes on the same day Sutherland's sophomore drama Touch was canceled by Fox, though the network tells E! News, "We aren't confirming anything until Monday at our upfront presentation. "
Originally published at 5:30 p.m.