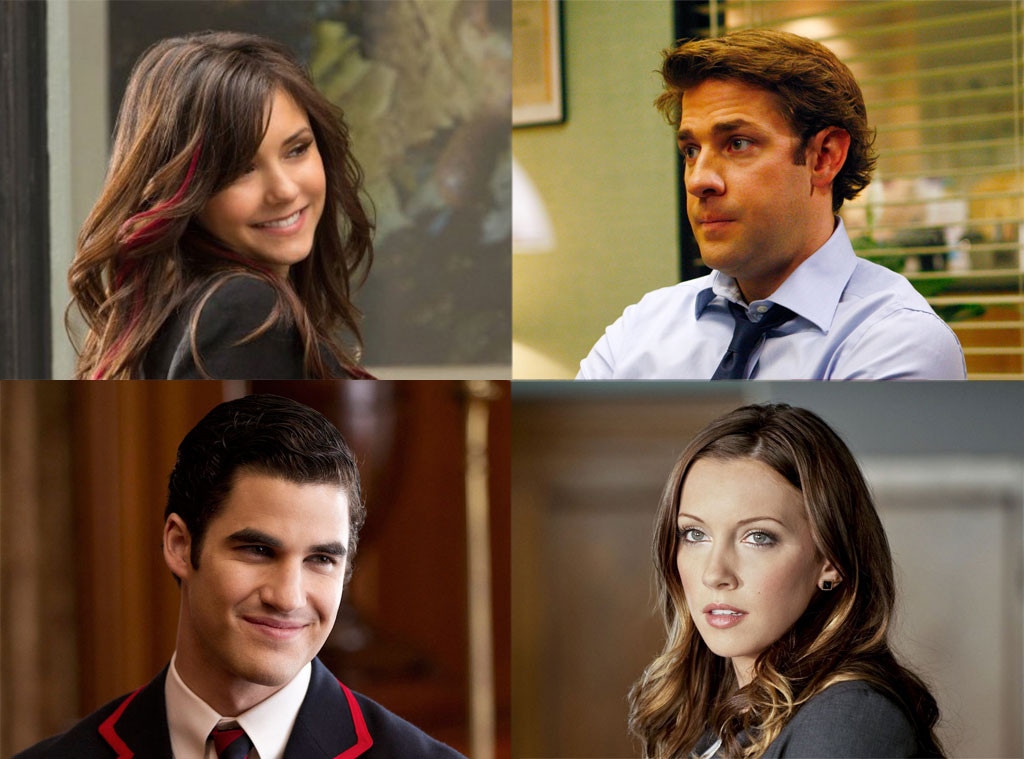 NBC, FOX, The CW
Dim the lights, 'cause it's time for some romance!
Today's Spoiler Chat features some juicy scoop on several fan-favorite couples, including Glee's Kurt and Blaine, who is thinking about proposing in tonight's finale, The Vampire Diaries' on-going love triangle and The Office's beloved Jim and Pam! Alas, it can't all be romance and rainbows, as we've also got spoilers on Arrow's big finale sacrifice, Beauty and the Beast's heated Beast-off, plus scoop on Psych, Awkward and more.
Sabrina: Any Homeland scoop to share?
The second episode's title? "Tower of David," which will introduce us to Fara, an intelligent Persian woman, who is quite the professional, despite her young appearance. Fans can expect to see her throughout season three.
Abby: Are Kurt and Blaine really going through with the engagement on Glee or does the lesbian couple talk them out of it?
Funny enough, we just spoke with one-half of that lesbian couple: Meredith Baxter. She insists that while she and her partner (played by Patty Duke) definitely have a meaningful dinner with Kurt and Blaine, they in no way give advice on whether he should propose or not. Looks like this decision will be all up to Blaine.
Cady: The title of Arrow's finale "Sacrifice" is making me nervous! Should we expect a big death?!
Executive producer Marc Guggenheim says not to read too much into the title, as "everyone should have a drinking game because literally if you were to take a drink every time the word sacrifice or some derivative thereof is used, you'd be buzzed by the end of the first act." However, we can tell you there will be at least one major casualty in Starling City by the finale's end. Start your prayer circles now!
Ramona: Not much time left to give us scoop on The Office…
Don't remind us, we are barely keeping it together as it is. We've seen the penultimate episode of The Office's final season (airing tonight), and if you are a fan of Jim and Dwight's relationship, this episode will be full of special treats for you. But what's most important is Jim trying to prove to Pam how much she means to him, so believe us when we say: have all the tissues on standby. All of them. And yes, you will find out who's getting married in the series finale. But we won't spoil that for you.
Mae: What will happen when Gabe and Vincent come face-to-face on Beauty and the Beast?!
Tension with a capital T, yo! Sendhil Ramamurthy teases fans will not want to miss. "It's pretty interesting, because obviously Vincent is not trusting of Gabe," he says, adding that Gabe will not exactly be himself when he first meets Vincent. "It's Gabe-Beast meeting Human-Vincent, it really floors Vincent because he's incredulous at this point…that whole scene is really cool."
Desiree: I have to know who Elena will choose in TVD's season finale!
While we won't reveal which Salvatore brother our heroine chooses, we can assure you that she does in fact pick one. (No Kelly Taylor-esque "I choose me" moment happening here!) As for the other brother, fret not as he'll have more than enough to deal with that not landing the girl (for now) will hardly register. Start prepping for one of the series' best twists ever, basically!
Jackie in Madison, Wisc.: I've been so lonely without my Psych boys. Any scoop on what's coming up when the new season rolls around?
Someone will be taken hostage in the beginning of the season. And it's someone very near and dear to the Psych universe.
Von: Awkward is the best right now! Spoil me on what's to come, please.
You asked for it. Near the end of the season, we'll be introduced to a new female character that could serve as a love interest for…well, it's anybody's guess at this point. This new lady (who will be around for more than on episode) is a gorgeous and sexy soccer player, but you won't be able to dislike her because she's also a genuinely nice person. Don't you hate when that happens?
—Additional reporting by Jenna Mullins and Tierney Bricker

Want your TV questions answered in our next Spoiler Chat? Email them to tvdiva@eonline.com or tweet at @KristinDSantos!