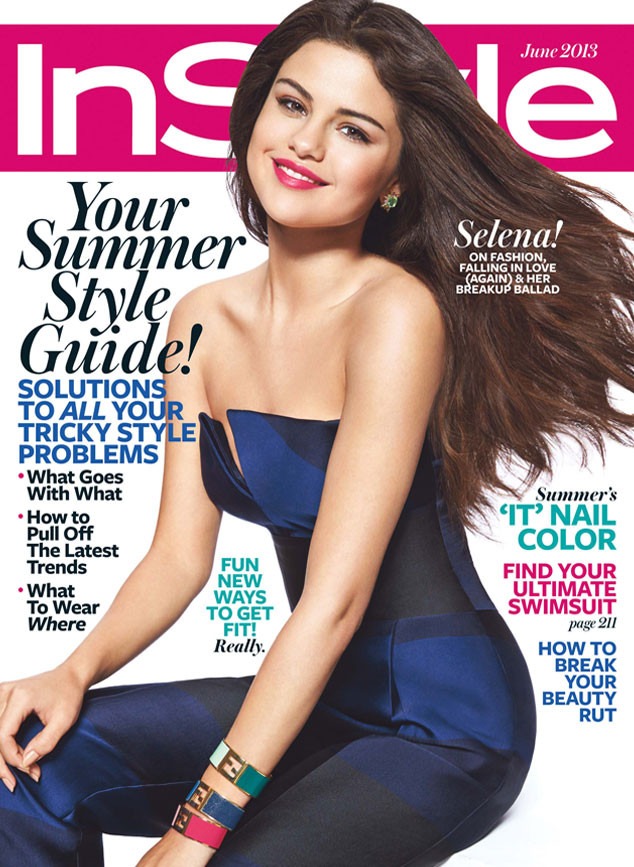 InStyle by Dusan Reljin
Selena Gomez may seemingly be back together with Justin Bieber now, but that doesn't mean the twosome is ready to wed anytime soon.
"I'm in love with love and totally believe in marriage, but that's not even on my radar right now," the 19-year-old pop star muses in June issue of InStyle, in which she also talks dating in the spotlight and being besties with Taylor Swift while looking flawless on the cover in a checkered Stella McCartney jumpsuit.
Admitting her breakup with the Biebs was "crazy and very intense," the Disney darling told the mag she's "not putting any energy into dating"...before she apparently got back with her on-again-off-again BF. 
"It's uncomfortable that everywhere I go, people know," she says of her relationship status. "I don't like that. But Justin and I never really focused on the attention. You can't help who you date. So I wouldn't swear off that or say that's what I want again. I don't know. I'm a kid, and a breakup is normal. I have to go through the emotions and feel it out. I'm doing my own thing, being with my friends, and he's doing very well too."
Although it now seems like the pair is doing well together, Gomez admits she poured her emotions over the split into her new album and even confesses her song "Love Will Remember" is about the Biebs.
"That's the most personal track on the record, for sure," she reveals. "I think it's a sweet way of releasing it. It's not an aggressive approach to what people are probably expecting," she says before adding, "I'm sure he'll [Justin] love it too."
But even if things don't work out with Bieber this time around, the "Come and Get It" singer has great friends to rely on, including BFF Taylor Swift, who she says is "like a sister" to her.
"We dated the Jonas Brothers at the same time and ended up becoming best friends," Selena spills.  "She's the one I call when I'm having any sort of sadness. She's very nurturing and protective."
No doubt, T.Swift is keeping a protective eye on her pal as she rekindles her romance with Justin, but Selena is both confident  and level-headed as she shares the qualities she seeks in a partner. 
"Honesty. You have to have honesty when you're living this lifestyle because of the distance imposed when working—you are separated so often. You have to be super-honest and open. That is key."
Smart girl. Are you listening, Justin?