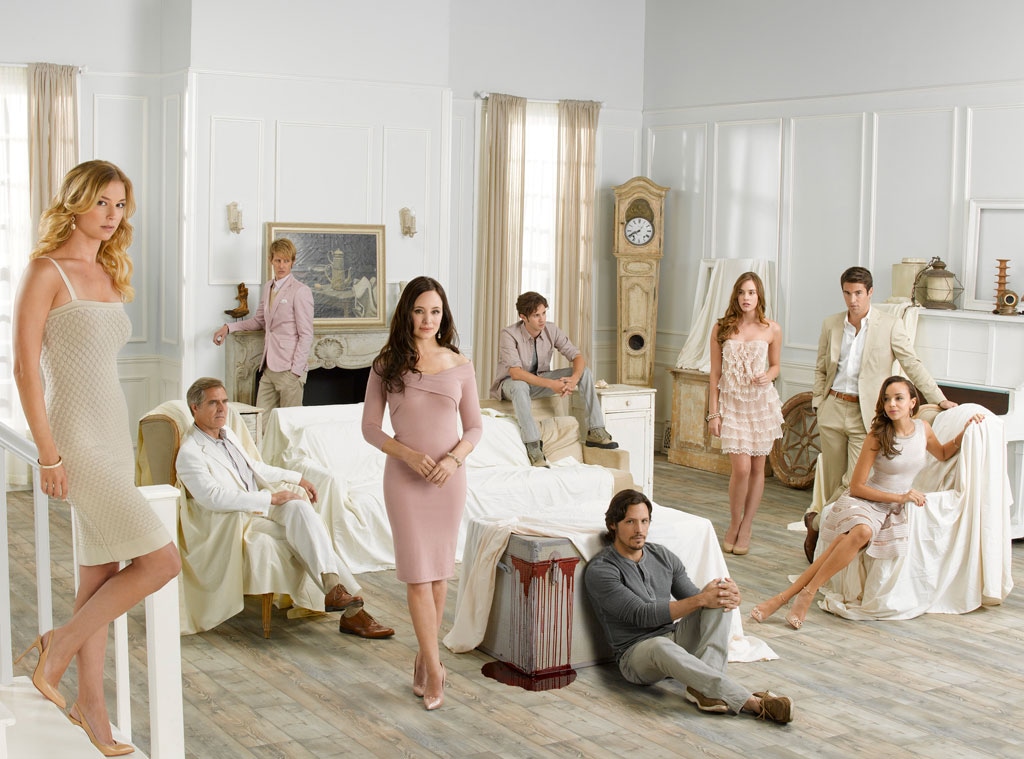 Bob D'Amico/ABC
Spoiler alert! We're about to dig into the biggest, most jaw-dropping moments from Sunday night's TV. If you haven't yet watched a particular show, and don't want to be spoiled, skip to the next!
Game of Thrones: Rest in peace, Ros (Esme Bianco)! The, um, lady of the night, who was one of the series' characters that wasn't in the books, found herself at the wrong end of King Joffrey's (Jack Gleeson) crossbow by hour's end after Littlefinger (Aiden Gillen) learned that she revealed his plan to whisk Sansa (Sophie Turner) away from King's Landing to Varys (Conleth Hill). Secrets, secrets are no fun unless you share with everyone...except in Westeros!
Revenge: The HBO hit wasn't the only Sunday night drama to feature a death: The ABC sudser said goodbye to Emily's (Emily VanCamp) revenge instructor Takeda (Cary-Hiroyuki Tagawa) after a fight to the death with Aiden (Barry Sloane). 
But that wasn't the only shocker Revenge dropped on us: Turns out Charlotte (Christa B. Allen) is pregnant! The troubled teen revealed the news to her brother Daniel (Josh Bowman) after he bailed her out of jail for public drunkenness. 
Once Upon a Time: Can't Emma (Jennifer Morrison) catch a break?! In order to save her and their son Henry (Jared Gilmore), Neal (Michael Raymond-James) sacrificed himself...just as he and Emma professed their love for each other. After being shot by his bride-to-be Tamara (Sonequa Martin-Green), who is really trying to rid the world of magic with Greg (Ethan Embry), Neal jumps into the portal to another world she opened with one of Regina's (Lana Parrilla) magic beans, just as he tells Emma, "I love you, too." Sniff!
Line of the Night: "How repetitious," Victoria (Madeleine Stowe) says on Revenge when she learns that Emily and Daniel are engaged again. Also: Lady Olenna's (Diana Rigg) "a sword-swallower through and through"  on Game of Thrones was aces.
Red Widow: ABC's freshman drama's season (and most likely series) finale ended with a few twists: Marta (Radha Mitchell) learned that her father was behind her husband's murder, Luther (Luke Goss) died and Natalie (Erin Moriarty), Marta's daughter, was left holding Nicholae (Goran Visnjic) at gunpoint thinking he was the one who murdered her father. Ruh-roh!
What did you watch on Sunday night?