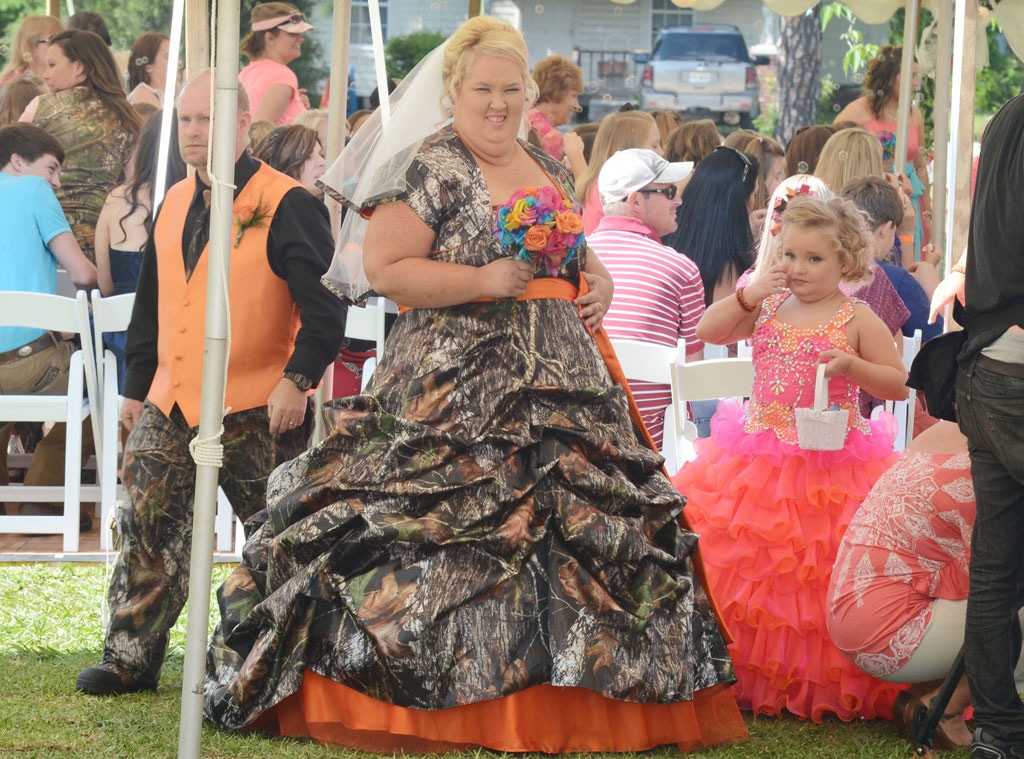 Jason Winslow / Splash News
You betta redneckognize y'all—Mama June and Sugar Bear made it official! Well, kinda.
Honey Boo Boo (real name Alanna Thompson) and big sisters Pumpkin, Chickadee and Chubbs witnessed their parents exchange vows today in their Georgia backyard, People reports, but they won't confirm whether or not they've legally tied the knot. 
"You'll have to watch the new season," a TLC rep tells E! News (Here Comes Honey Boo Boo returns to TLC July 17, so write that down).
"The day was very special mostly because my girls were able to take part in it," June told the mag, "I felt like it was important for them to see this moment and celebrate my love for Sugar Bear."
The ceremony included a cake and a one-of-a-kind, camouflage wedding dress that was paired with a bouquet of bright roses. Everyone also enjoyed a barbeque and a bit of Cinco de Mayo partying.
"My sister baked the cake, and we spent most of the money on barbecue," says June. "We stayed true to our roots and made the focus on the family and my commitment to Sugar Bear. You can definitely plan an event on a budget!"
June also offered a piece of advice for fans who are looking for their own Sugar Bear.
"Never settle for a man who doesn't treat you right," she says. "If a guy doesn't love everything about you, move on! There are plenty of other fish in the sea." 
She continued, "I give this advice to my daughters, because I always want them to be themselves and surround themselves with people who love them for them."
Wise words, Mama June.