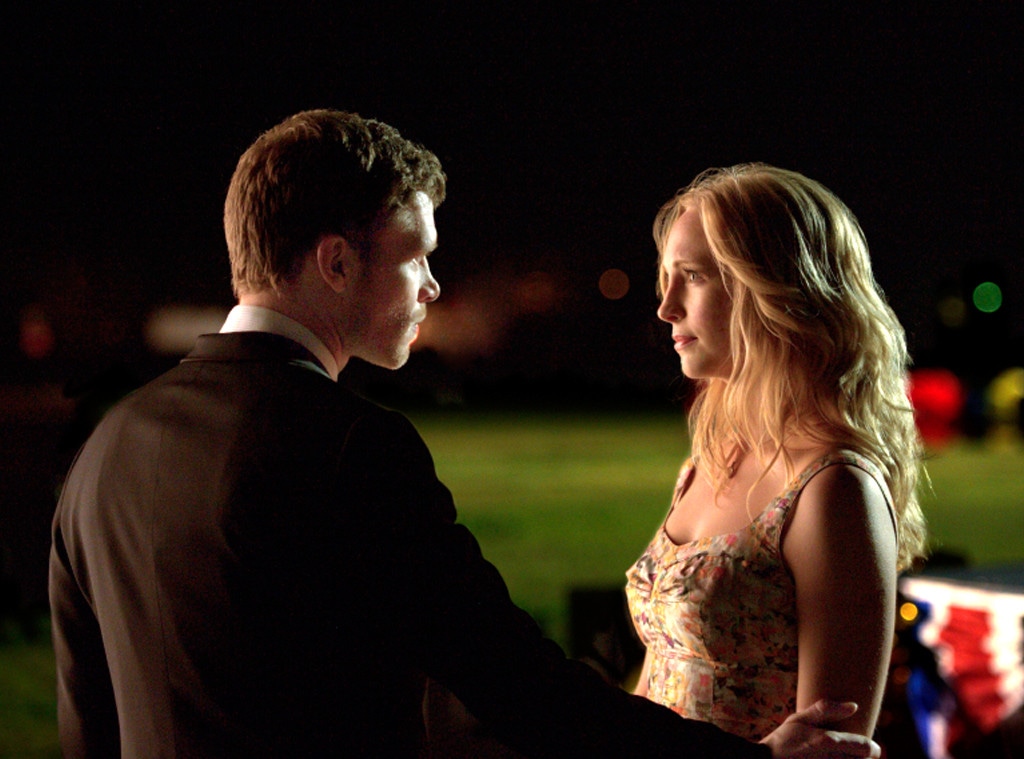 Curtis Baker/The CW
What better way to kick off the week than with some juicy scoop on your favorite TV shows?!
In today's Spoiler Chat, we've got spoilers on The Vampire Diaries' sure-to-be epic finale, as well as New Girl's special wedding guest Taylor Swift and the first lady's next bold move on Scandal! Plus, we've acquired scoop on Teen Wolf, Homeland, Beauty and the Beast and more!

Monique: I'm shipping hard on Danny and Mindy on The Mindy Project! Please tell me they get together before the season ends!
"Dandy" (can we call them that?) won't end up together, but trust us: there's a reeeeally good moment that will give you goosebumps. Unless you are dead inside. And then we can't help you.
Francesca: Scandal me. Now.
Still having trouble forming words after last week's shocking episode? Us too! One question we were able to put together though was why Mellie didn't reveal Olivia as Fitz's mistress during her interview. "That fact, that truth, is her last play," Bellamy Young explains. "She's going to be very judicious about how, when and where she lays that card on the table." Yikes!
Beth: Any scoop on Taylor Swift's guest appearance on New Girl?!
Just that everyone that works on the show is even more obsessed with her than they already were! "She's a fantastic actress. She did such a good job," creator Liz Meriwether gushes. "Our set is a fun set to come to, but it's also a little bit crazy because there's a lot of improv and people shouting out extra jokes and she completely held her own and did such a great job with it."  And don't expect to hear any of her music in the finale, as Meriwether says that would have been "a little bit too on the nose" for the show.
Thomas: You've been skimping on the Vampire Diaries scoop lately, what gives?!
How about an epic finale tease courtesy of Candice Accola to make it up to you?  "We're going to have a very dramatic season finale as the show always does," she says. "We will be closing a chapter, we might be saying goodbye to someone, but we're going to say hello to a new beginning."
Sylvia: Can't believe Dexter is ending! Do you think my beloved serial killer will die in the end?!
We won't lie, we're a little nervous about Dexter's fate after peeping this new poster Showtime released, which features Dex wrapped in plastic similar to the way he wraps his victims! Gulp!

Rachel: I have a very shallow question. Since Dylan O'Brien was shirtless for New Girl is he going to take of his shirt for Teen Wolf?
We have it on good authority that he will not be stripping down for the MTV hit series anytime soon, but never say never. (P.S. Check back later today for fun season three teases from executive producer Jeff Davis!)
Matt: Any scoop on Homeland?
The season three premiere is titled "Tin Man is Down" and will introduce viewers to a  slew of troubled, but recovering young adults, including a handsome and charming young man who can sweep girls off their feet. Hmm…could Dana be heading to counseling of some sort? Sounds likely, considering we'll also meet a psychiatrist during the hour!
Cynthia: Have been counting down the minutes until Beauty and the Beast's big date episode! Anything you can share?
Well, aside from the fact that Jennifer Levin calls the episode "sexy," we can tell you that a game-changing reveal will go down by episode's end. Trust us, it's huge. Oh, and check back a bit later for a sneak peek at Catherine and Vincent's "sexy" date. (We're evil, we know.)
—Additional reporting by Tierney Bricker

Want your TV questions answered in our next Spoiler Chat? Email them to tvdiva@eonline.com or tweet at @KristinDSantos!