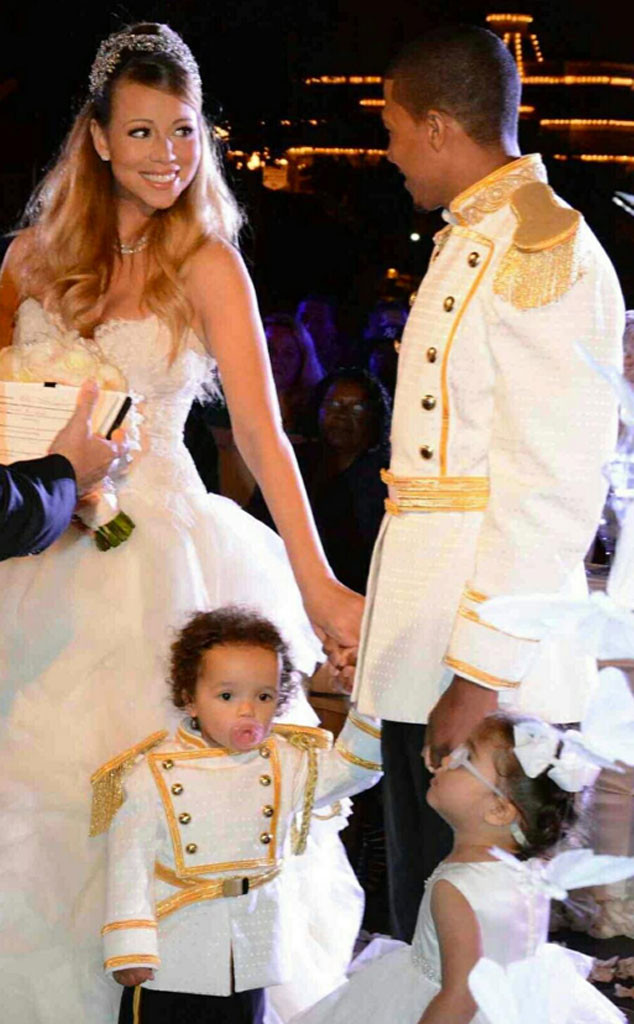 Twitter
The perfect fairy-tale wedding doesn't come cheap!
Last night, Mariah Carey and Nick Cannon celebrated their fifth wedding anniversary with a big vow renewal at Disneyland in Anaheim, Calif.
So how much would such a fancy shindig cost the cute couple?
First off, we've learned that in order to rent the Sleeping Beauty's Castle location, where Carey and Cannon exchanged vows, you can only do it when the park is closed (after 8 p.m. during spring) and the minimum cost would be $135,000. It would include basic setup for the ceremony and for the reception afterwards and basic decorations.
If you wanted different decorations or specific music during the ceremony or reception (Cannon served as DJ during the post-ceremony party), that would cost more.
The horse-drawn Cinderella Crystal Carriage that the lovebirds rode down Main Street on costs $3,150 and comes with a personal footman.
As we told you earlier, Carey and Cannon had 250 of their closest friends and family to help them celebrate at a Fantasyland reception after the wedding. The average cost of a Disneyland dinner reception is $125 per person with 22 percent service fee and eight percent sales tax.
So based on those numbers, the cost of Carey and Cannon's fifth anniversary bash would come out to somewhere in the vicinity $180,000. And that's not including parking, additional music and decorations, party favors or other fun stuff!
Meanwhile, Jamie Ane Eubanks, owner of Magical Vacation Planner, tells E! News that, from what she say of the ceremony, "It was a beautiful and fairy-tale renewal." A source also tells us that Carey and Cannon stayed in Disneyland's Dream Suite luxury apartment after the bash.