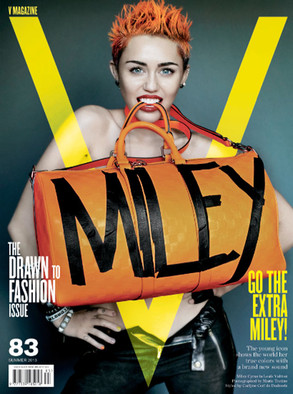 Mario Testino for V Magazine
Miley Cyrus knows exactly what she wants.
And that includes a future with fiancé Liam Hemsworth, a successful music career and a signature punk rock style. Looking sexy and scantily clad on the cover of V magazine, the 20-year-old pop star opens up about her ever-evolving style, her relationship and her new music.
"I'm not home with my boyfriend all the time. We work. Every week, it's 'Are they broken up?' because we don't see a photo of them," the young starlet, whose relationship status has been making headlines, explained. "I don't have time go to Starbucks with my boyfriend every morning…He gets up to work out at six and I come home at five from the studio. I put this record before everything, and I've never done that with anything. I've put too much into this record to put anything else in front of it."