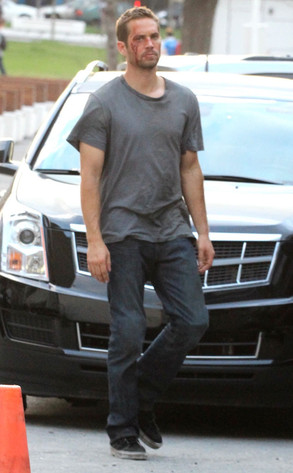 Ultrawig / Splash News
Paul Walker is having a bloody good time on the set of his latest action flick.
The Fast & Furious star was snapped walking around with fake blood caked on his face and forehead as he prepared to shoot a scene recently for Brick Mansions.
Walker, 39, plays an undercover cop out to stop a ruthless crime lord with access to a nuclear bomb in the movie, an English language remake of Luc Besson's 2004 French action thriller District B13.
While Brick Mansions doesn't hit theaters until 2014, the thesp meanwhile is gearing up to reteam with Vin Diesel and Dwayne Johnson for the May 24 release of Fast & Furious 6, the latest installment in the popular street racing franchise.