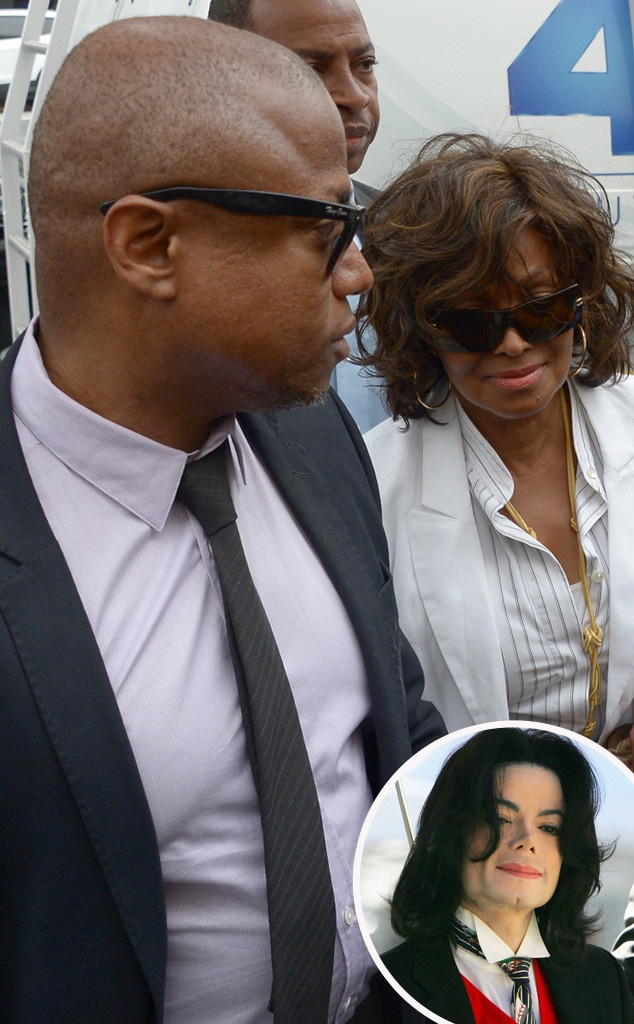 AFP PHOTO / JOE KLAMAR/Getty Images
Think there are no more revelations to be had about the life and death of Michael Jackson?
Opening statements began today in the $1.5 billion wrongful-death case brought by Katherine Jackson, on behalf of her son's estate, against concert promoter AEG Live, whom she accuses of negligently handling her son's medical care by hiring cardiologist Conrad Murray and therefore playing a role in his June 25, 2009, death from a propofol overdose.
AEG has denied being Murray's employer, maintaining that it was Jackson who brought the embattled doc onboard.
With the trial expected to last anywhere from one to three months, Monday was each side's first chance to score early points with the six-man, six-woman jury—and possibly land a few early blows. Interestingly, both camps were limited to a two-and-a-half-hour opening statement to better allow for witnesses to start testifying first thing Tuesday.
Check out the five biggest punches that landed today:
1. Michael Jackson's History of Drug Abuse: Jackson attorney Brian Panish told the court that the pop icon became addicted to prescription drugs after infamously suffering second- and third-degree burns while shooting a Pepsi commercial in 1984. "It was widely publicized Michael was dependent on painkillers," Panish said. The entertainer's anxiety also got worse and worse over the years, especially when he was held to "a rigorous schedule." In her original complaint, Katherine Jackson alleged that her son was being overworked by AEG and This Is It director Kenny Ortega, who is no longer a defendant.
2. "No Rules": Panish, implying that the concert promoter's proverbial hands were dirty, said that AEG knew Jackson had a problem—and didn't care. "You know what AEG's problem was? They were not No. 1 in the concert business but they wanted to be," the lawyer said. "You don't [become No. 1] with white gloves. You don't do that with white gloves. You do what you gotta do if you want to be No. 1 in this rough business of concert promotions."
"There were no rules," Panish continued. "It didn't matter what it took... AEG had a problem and they wanted to fix it and they didn't care who got lost in the wash."
3. AEG Didn't Read the Signs: Panish told the jury that Murray, who was revealed to be struggling financially after Jackson died, demanding a $5 million salary should have been a red flag. "When a red flag comes up, do you turn away or do you look into it?" he asked. Murray's "financial condition made him susceptible to pressure and created a conflict between his patient's needs and AEG's needs."
4. Jackson Was Using Behind Closed Doors: But why would AEG Live want to lose "Jackson in the wash"? "This case is about the choices that we make and the personal responsibilities that go with that," countered AEG attorney Marvin Putnam in his opening statement, stating that the artist was using propofol as a sleep aid "behind locked doors."
5. "Anything but Typical": Putnam promised that this trial would reveal "some ugly stuff" about Jackson. "The public Michael Jackson was very different from the private Michael Jackson," he said. "He erected a wall between himself and his family. Even his family wasn't sure what was going on at the house. He kept those who might have been able help him at a distance...AEG, like everyone else, was an outsider. They had no idea. [The propofol use] was going on behind locked doors." Putnam added, "As with Mr. Jackson's life, his death was anything but typical."
Katherine was in court today along with her daughter Rebbie and son Randy.